All Access
5 Things You Missed Today (September 14)
Don't miss today's updates on Niall Horan's birthday, Taylor Swift getting sued, Kendall Jenner's NYFW video, Jennifer Lawrence googling herself, and Nina Dobrev's childhood snaps.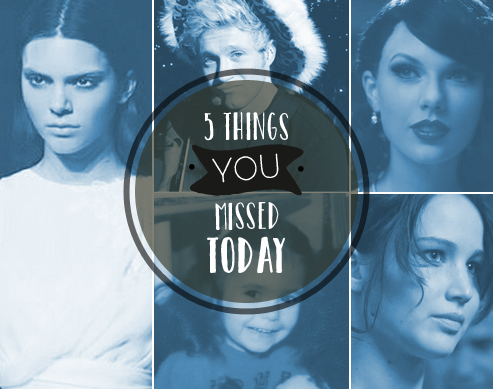 COVER ART Trixie Ison PHOTOS Instagram (@fakeliampayne, @taylorswift, @kendalljenner, @ninadobrev), The Weinstein Company
Last weekend, One Direction's Niall Horan celebrated his birthday onstage during their performance in Foxborough, Masachusetts. And how did he celebrate? By doing a cover of Taylor Swift's song "22," of course. Hit the play button to watch the video and let us know what you think of it in the comments. Belated happy birthday, Neil! (via TeenVogue.com)
CAN I GET AN ACTUAL COVER OF NIALL SINGING 22 PLEASE pic.twitter.com/jvvcw21DwO

— ålinë // 12 & 16 (@NJHNlKE) September 13, 2015
Speaking of Taylor Swift, it seems like the music sensation is in a bit of legal trouble. A radio personality is filing a lawsuit against the hitmaker after Tay-Tay accused him of touching her inappropriately during a photo sesh in 2013. Naturally, David lost his job and is now suing Taylor because he said he never did that to her. Oh no! (via J-14.com)
READ: Are the 1D Boys Really Releasing Their Fifth Album Soon?
Kendall Jenner's Instagram video shows us the reality during the New York Fashion Week. It's not really that glamorous behind the scenes. In the video, Kenny shows us that she's shaving her legs while inside her car and then she wrote in the caption, "so much fashion, not enough weekend #YouGottaDoWhatYouGottaDo." Aww, sometimes your job really gets all of your time. Hope you're okay, Kenny. You can do it, girl! (via MTV.com)
ADVERTISEMENT - CONTINUE READING BELOW
READ: Is This a Still From Taylor Swift's Brother's Upcoming Movie?
Aww, Jennifer Lawrence recently admitted that she Googled herself. We know that we do this sometimes, but imagine how hard it must be for stars like her. In an interview with The New York Times, JLaw revealed, "I'm so scared to say anything now. I can see every negative way that people can take it, and I don't want to sound like I'm complaining. It probably comes from Googling myself. If it were up to me, I would not talk. I would just act." But so glad that she realized it wasn't really for the best in no time, and also explained how she wants to keep a part of herself for herself alone. "I find a certain peace by thinking of me in public as sort of an avatar self. You out there can have the avatar me. I can keep me," she said. "And I just try to acknowledge that this scrutiny is stressful, and that anyone would find it stressful. So I've got to try to let it go, and try to be myself, and focus on important things, like picking up dog poop." You go, Jen! (via Cambio.com)
ADVERTISEMENT - CONTINUE READING BELOW
Have you seen Nina Dobrev's childhood photos on her Instagram? These photos prove that she's already the adorable lady she is even when she was so young. Just take a look at one of them below. How cute! (via Cambio.com)
Got gossip to share? Spill the deets in the comments!
We're so excited to see the sisters BEFORE the wedding!
You favorite childhood sweet is now in cupcake form!
Will your friendship survive the wrath of thesis?
Here are a few things that might help.
Fast cars and dark roads don't mix.
BTS' agency already made the official announcement.
The deep red lipstick shade flatters all skin tones!
The 19-year-old dancer also appeared in the music video and on Jimmy Fallon's show along with her dance crew The Lab!
This is straight out of a teleserye!