Are Paper Towns' Nat Wolff and Pretty Little Liars's Ashley Benson a couple? Sadly, the answer is no. The two were actually just spotted in the same party together, and Nat was just being a gentleman for the actress. While trying to block photographers, Nat held Ashley's hands which were seen in the photos EOnline published. But they do look good together, right? So it's not so bad if they were actually a couple. (via EOnline.com)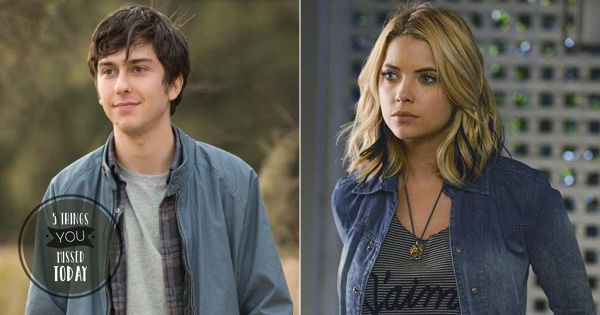 ADVERTISEMENT - CONTINUE READING BELOW
The Vamps guys were recently on Capital FM's Instaoke and we can't get enough of their mini-version of Drake's "Hotline Bling." Ugh, can they do the entire song now? Hit the play button to watch them sing a few lines from other songs as well.
ADVERTISEMENT - CONTINUE READING BELOW
The next parts of Taylor Swift's recent interview with Grammy Pro are here, and they will give you a deeper look into her songs from 1989. So what was the story behind her first song off the album "Shake It Off" exactly? "1989 was essentially a celebration. I changed every part of my life. I focused every part of my life on different things than I'd focused it on before. I had new adventures and everything. And I kinda stopped caring. Like, I'm very well aware of what everyone says about me—like every single thing. The difference between now and three years ago is I honestly don't care anymore," Tay said. "I kinda wanted to write something that sounded like how I feel about all that… and I know the vibe I want. I want it to start off, and the second the song starts, I want it to be the song where, like, if it's played at a wedding, and there's this one girl who hasn't danced all night at the reception, all her friends come over to her and they're like, 'You have to dance! Come on! You have to dance on this one!' That's what I wanted." Now we know why we feel like dancing whenever we hear it! (via MTV.com)
ADVERTISEMENT - CONTINUE READING BELOW
Speaking of Taylor Swift, if you want to watch her perform live during the 1989 World Tour in Singapore, then you should read this! Keds, 1989's official tour sponsor, is sending three lucky winners for a trip for two via Access Travel and Tours Inc. All you have to do is follow these mechanics and make sure to send in your entries by October 18, 2015. Good luck, Candy Girls!
Want to see Taylor Swift in concert? Here's how:To enter via Facebook: Go to http://on.fb.me/1VksjmL, fill in the...

Posted by Keds on Sunday, 11 October 2015
Wondering why Elle Fanning isn't on any social media website or app? Then her response to this question for her i-D cover interview about making her Instagram feed public just might do that for you. The Maleficent star talked about the pressures of making her feed available for everyone, saying, "Will a piece of me go away if I touch that button that makes it public? Who knows? But it just seems like such a hard job. People always have witty captions and great photos and mine does not look like that, at all. Oh, the pressure of being cool…" Aww, we totally get you, Elle. (via i-D.com)
ADVERTISEMENT - CONTINUE READING BELOW
READ: Blake Lively and Leighton Meester Weren't the First Choices for Their Roles
Got gossip to share? Let us know in the comments! :)