All Access
5 Things You Missed Today (November 3)
Don't miss today's updates on Ariana Grande's next music video, 1D's leaked song from the fifth album, Sam Smith's "Drowning Shadows," a conspiracy theory about Taylor Swift and Adele, and Cara Delevingne and Michael B. Jordan's action flick!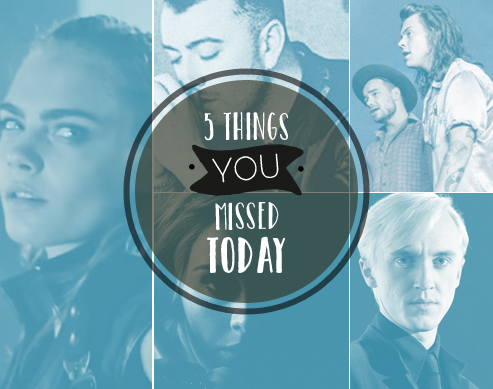 ART Trixie Ison
PHOTOS Instagram (@adele, @samsmithworld, @taylorswift, @onedirection), Warner Bros., YouTube (Call of Duty)
When Ariana Grande told Tom Felton over Twitter that she wants him in her music video, she wasn't kidding. The exchange happened when Tom replied to Ari's tweet about "Focus" where she was sporting platinum locks. But we thought they weren't really serious. But seems like Ari was because in an interview, she said, "He tweeted, he was like, 'If you ever need anyone in your music video.' I was like, 'I don't know what the next single is, but we're gonna find it, and we're gonna make sure you're here.'"" Looking forward to this one, Ari! (via MTV.com)
I will 100000000000% take you up on this. https://t.co/rKdxwTJIwy

— Ariana Grande (@ArianaGrande) October 27, 2015
One Direction's song from Made In the A.M. "Never Enough" leaked online shortly after a fan event happened. While others were happy to get a first listen of the track, Directioners aren't really happy about it. The result? The hashtag #ThingsToLeakInsteadOfTheAlbum trended on Twitter. The boys gave lucky fans early listening experience called #1DFirstListen days before their fifth album is released. No people from the press were allowed to join to keep the event private. Unfortunately, a few seconds from the event made its way online. Aww, hope this doesn't upset the boys so much and that fans can wait until Made In the A.M. is officially released on November 13.
ADVERTISEMENT - CONTINUE READING BELOW
These boys have put their heart and souls into this album and they should b the ones to officially release it #ThingsToLeakInsteadOfTheAlbum

— tommo ♡ (@louiss_tommo91) November 3, 2015
Sam Smith, what are you doing to us??? The British singer released the "saddest song" he's ever written, "Drowning Shadows." The song is part of Sam's re-release of his first album called In the Lonely Hour: The Drowning Shadows Edition on November 6. (via MTV.com)
READ: Netflix Is Turning Thirteen Reasons Why Into a TV Series
Wow, this rumor is cray! A few Tumblr users who've been posting about Adele's comeback song "Hello" have this conspiracy theory that Taylor Swift and Tumblr are teaming up to shut down and delete posts about the Brit singer's music. What?! They are even tweeting about the whole thing which started when "Hello" broke the records of being the most-watched video on Vevo in 24 hours. While we doubt this is true, there are several users who've been posting about it already. Hmm, what do you think about this, Candy Girls? (via Cambio.com)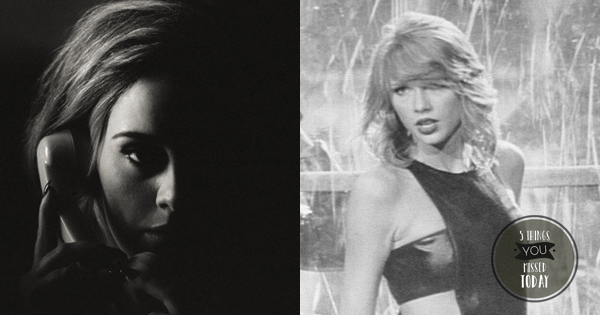 ADVERTISEMENT - CONTINUE READING BELOW
Cara Delevingne, Michael B. Jordan, and Marshawn Lynch are team up for the live-action movie Call of Duty: Black Ops III. Set for release on November 6, the movie seems like a heavy action flick set in a chaotic time of robots. Hit the play button below to watch the trailer. (via Variety.com)
Got your own gossip to share? Let us know in the comments! :)
The local brand has partnered with charity organization Give PH to help with the donations.
If you're desperate for a cut, YouTube is your best friend.
She recently sang it again during an Instagram Live with husband Taylor Goldsmith!
They also had a short jam session!
"I was genuinely afraid I would die, because that is what it felt like."
If you haven't already picked up on that.
It'll be just like the good, old days-except now, you can watch it any time, anywhere.
Molo has since posted his public apology online via Instagram stories.
Finally, something to look forward to.
This is just heartbreaking.
For "a different kind of positive," as designer Ram Silva puts it.