All Access
5 Things You Missed Today (November 13)
Don't miss today's updates on 1D's hiatus, a lawsuit against Taylor Swift, Zayn Malik's latest photo, Nicholas Hoult and Jennifer Lawrence's breakup, and Calvin Harris and Zedd's friendship.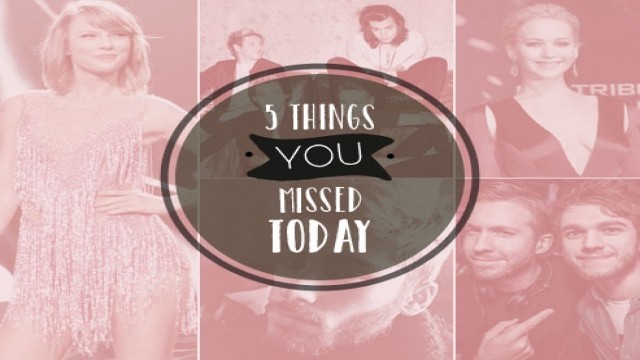 PHOTOS Facebook (One Direction, Taylor Swift,
The Hunger Games, Zayn Malik), Twitter (@zedd)
Somebody hold us because the One Direction boys aren't going on hiatus for just a year. Make that two! Liam Payne might have accidentally spilled the beans during an interview with BBC Radio 1. Say it isn't so, Payno. "We haven't really had time to write an album and whereas two years off," he said. "Writing's not really a job, it's so much fun, we've always had to rush it so it's nice in these two years I'm going to write some songs and see what happens." NOOO. (via J-14.com)
The FOMO is real as proven by Zayn Malik's latest Instagram upload. The ex-1D cutie shared an uncaptioned photo of him on his account, where he looks a bit sad and gloomy. Now we're wondering why he did. Is he sad because he's missing his bros and their new album is gooooood? We can only assume. Maybe it's just the filter, really. (via MTV.com)
ADVERTISEMENT - CONTINUE READING BELOW
Last week, Jessie Braham filed a lawsuit against Taylor Swift because she allegedly ripped off "Shake It Off" from his song "Haters Gonna Hate." A lot of us scratched our heads because that's a common phrase, right? So it should come as no surprise that the judge dismissed the case. But here's the twist: Judge Gail J. Standish did so in true Taylor fashion. "At present, the court is not saying that Braham can never, ever, ever get his case back in court. But, for now, we have got problems, and the court is not sure Braham can solve them," she explained in her ruling.
As currently drafted, the complaint has a blank space— one that requires Braham to do more than write his name. And, upon consideration of the court's explanation in Part II, Braham may discover that mere pleading BandAids will not fix the bullet holes in his case. At least for the moment, defendants have shaken off this lawsuit." *z snaps everywhere* (via BuzzFeed.com)
ADVERTISEMENT - CONTINUE READING BELOW
Here's proof that Calvin Harris and Zedd are BFFs, you guys! The two music producers exchanged cute, friendly tweets and now we just want them to produce a song together. That would be awesome! Although, we also want Zeddlena to get back together so we can have couple BFFs. (via JustJaredJr.com)
@Zedd that's what it's like when u make hits Anton

— Calvin Harris (@CalvinHarris) November 10, 2015
Even after a while, we're still curious about what really happened between them. For the first time, Jennifer Lawrence spoke about it on ABC with Diane Sawyer. "Being 24 was this whole year of 'Who am I without these movies? Who am I without this man?'It was always 'we.' It sounds so young to say that but it's true," the Hunger Games actress explained. "I don't really plan on getting married. I might. I definitely want to be a mother. I don't really imagine getting married anymore. I don't feel like I need anything to complete me. I love meeting people, men, women, whatever, I love people coming into your life and bringing something." Aww, so that's why. (via JustJaredJr.com)
ADVERTISEMENT - CONTINUE READING BELOW
And because we're feeling awesome today (humor us, Candy Girls, please. Hahaha!), we're adding one more item on this list. Make sure you've bought and listened to One Direction and Justin Bieber's albums which they've released today. Made In the A.M. and Purpose both went on sale today and you can also stream them for free via Spotify. Just don't forget to tweet about them because they have awesome Twitter emojis, JSYK.
Love 1D? Pre-order your copy of #MadeintheAM before #Fr1Day13! https://t.co/5vDl8Z5tjx

— One Direction (@onedirection) November 7, 2015
#PURPOSE OUT NOW ON @AppleMusic WORLDWIDE https://t.co/ZWMJvhasht

— Justin Bieber (@justinbieber) November 13, 2015
Got gossip to share? Let us know in the comments. :)
Watch more of Paulina and Vico's sibling banter here.
There are certain trends we can incorporate into our looks here in the PH!
Dr. Michele Alignay talks about "emotional distancing."
Looks like the Philippine Philharmonic Orchestra likes Captain Ri's music!
Iced, hot, and frapuccino-style!
Achieve that crunchy Chickenjoy skin.