Hey, Nathaniel Buzolic fans! Good news because he's headed back to television. After playing Kol on The Vampire Diaries and in the web series The Originals: Awakening, Nathaniel will be making people laugh on The CW and Alloy Entertainment's Significant Mother. Set to premiere in August, the show, according to Just Jared Jr., is about Jimmy Barnes, "a carefree optimist who leads with his heart, followed a while later by his head. And while he has always been loved by the ladies, his new relationship with his best friend's mom may turn him into a one-woman kind of guy."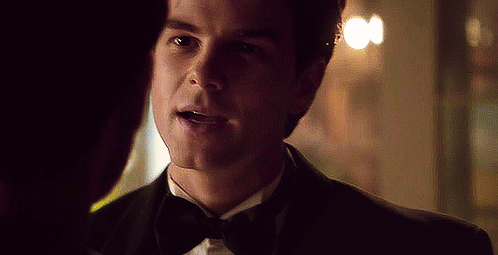 via ivedone-itagain.tumblr.com
Oh no, Litle Mix just annoyed Harry Styles fans and Directioners. After playing a hypothetical game of Tinder on Capital FM, the girls said that if they ever came across Hazza on the dating app, they'd swipe left—which means, they won't go for him. Of course they totally understood why Perrie Edwards who's engaged to Zayn Malik would say no. It was even perfectly fine that he's not their type until Leigh-Anne explained her no and said, "I'm going to take Taylor's advice and go left." Directioners soon expressed their annoyance and their thoughts on Twitter. Yikes!
ADVERTISEMENT - CONTINUE READING BELOW
Here it is the interview of LM http://t.co/P4s3jskl7M

— isa loves h. (@stylxsh_) May 3, 2015
Missed listening to a singing Joe Jonas? Then you'll love this remix of Ciara's "I Bet" featuring the former Jonas Brothers member.
The next book in Keira Cass's The Selection series is set for release tomorrow (US Time). The Heir takes place 18 years after the happily ever after of America Singer and Prince Maxon where their daughter is set to undergo the Selection process. You can watch the book trailer right here until you get your hands on a copy. Are you excited?
And make sure you mark your calendars, too, because Keira Cass is coming here in September!
We know that Star Wars day (hi and #MayThe4thBeWithYou!) is over, but we just can't let the announcement of Lupita Nyong'o and Adam Driver's characters slide. The two actors will be playing the CGI character Maz Kanata and villain Kylo Ren respectively in Star Wars: The Force Awakens. Set for release this December, the cast had a recent photoshoot with renowned photographer Annie Leibovitz for Vanity Fair.
Here's the Character Lupita Nyong'o Plays in 'Star Wars: Episode VII' + Jar Jar Binks Dead? http://t.co/em10rWn6JR pic.twitter.com/wULetozPL5

— Shadow And Act (@shadowandact) May 4, 2015
Got your own gossip to share? Let us know in the comments or tweet us @candymagdotcom.