After canceling his tour dates in Australia, Sam Smith announced that he's also postponing his stop in Manila on May 10. The British singer was forced to move his tour dates to a later time this year due to hemorrhage in his vocal cords. He made the announcement on his Facebook account earlier. Hope you get better soon, Sam!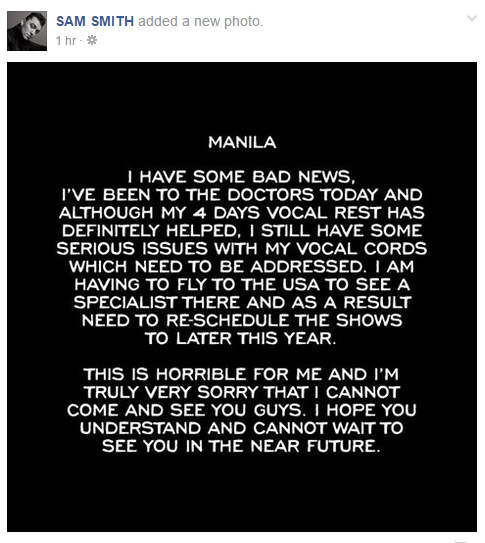 via Facebook (Sam Smith)
It's been confirmed! Ryan Gosling and Emma Stone are making another movie together. The two are starring in Whiplash director Damien Chazelle's musical La La Land, which centers on Sebastian (Ryan) and Mia (Emma), a couple who do the things they are passionate about. However, as they continue to succeed in their chosen fields, their love affair is endangered by their decisions to continue doing what they love. La La Land is set for release on July 15, 2016.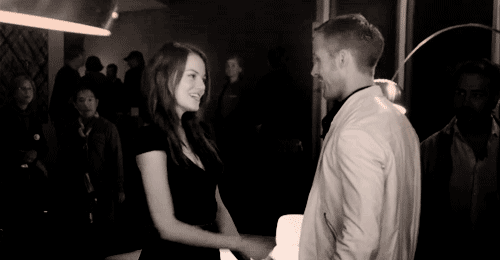 via candacedoesgifs.tumblr.com
ADVERTISEMENT - CONTINUE READING BELOW
Here's your first look at the cast of Suicide Squad, Candy Girls! After revealing that creepy photo of Jared Leto as The Joker, we're getting another photo of the cast who are nearly unrecognizable in their characters. The movie includes Will Smith as Deadshot, Margot Robbie as Harley Quinn, Cara Delevingne as Enchantress, Jai Courtney as Captain Boomerang, Joel Kinnaman as Rick Flagg. Suicide Squad is set for release in August 2016.
Task Force X assembled and ready. #SuicideSquad pic.twitter.com/fEV7E1aPsm

— David Ayer (@DavidAyerMovies) May 3, 2015
Is Zendaya following the footsteps of her BFF Taylor Swift? In her recent radio interview, the singer and KC Undercover star revealed that she wants to work with a country music artist because she really likes the music genre. "I really want to work with a country music artist, because I really like country music," Zendaya said. "People don't really take the time to listen to it sometimes, especially if they're into hip-hop or R&B or whatever, but really, it's just like R&B... I heard that a lot of country music artists work with R&B writers and stuff like that... I would love to work with country music artists." Although she really wants to work with a country music artist, Zendaya isn't really into changing genres, and we don't really mind. Good luck on your plans, Z. In any case, trust us be one of the first ones in line to listen to your new music.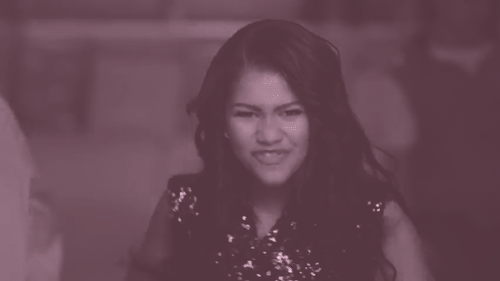 via child-actor-gifs.tumblr.com
Iggy Azalea and Britney Spears recently teamed up for their catchy new track "Pretty Girls," and we can't get enough of it! More awesome news: The two will be performing at the 2015 Billboard Music Awards together. But another thing we're looking forward to is the music video for their single since, according to reports, it promises a lot of "impressive dance scenes." Ugh, too many good things! Listen to Britney and Iggy's single below now.
Got gossip to share? Let us know in the comments or tweet us @candymagdotcom. We always love hearing from you. :)