As we all know, Taylor Swift has one of the nicest legs in the industry. So it should come as no surprise that the "Blank Space" hitmaker wants to have it insured. According to reports, the pop singer and her team wanted to look into how much they were worth just in case anything happens while she's practicing her routines for her performances onstage. They were only expecting that Tay's legs would cost a million, but it turns out they cost more—$40 million. No official word from Tay's camp were obtained yet, but we think this is move is necessary. After all, she's dancing in those sky-high heels onstage which is a bit ~dangerous~ if you ask us.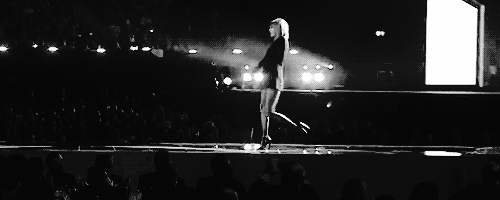 via sayyoullremembermetaylor.tumblr.com
ADVERTISEMENT - CONTINUE READING BELOW
Ed Sheeran is already in Asia! We're in the same continent as him. As we all know, he's holding a concert here on March 12—Thursday. But right now, the British singer is in Korea and he even shared this cute fan mail on his Instagram account, captioned, "God bless Korea." What a cute (and honest?) message! What would you tell Ed if you were to send him a fan mail? Spill in the comments!
Is Miley Cyrus releasing new music? The "Wrecking Ball" hitmaker recently posted an Instagram video of her inside a studio, recording what sounds like a new song. A few days before Miley's post, her mentor and Flaming Lips frontman Wayne Coyne also shared his own clip on Instagram with a Miley song playing in the background. Do you think she's working on a brand new track?
ICYMI: Emma Watson Finally Has Her Gaston

ADVERTISEMENT - CONTINUE READING BELOW
Sam Smith makes a vow to stand up for gay kids in his latest interview with The Sun. The Grammy-winning singer told the publication about how he was bullied at school when he was younger, even though his family and friends totally accepted who he was. Sam even said that it got a little physical, too. "When I moved to London I got punched in the neck walking back from work. It was definitely homophobic," he said. "I was on the phone speaking quite loudly and had pink earphones on so it was pretty clear I was gay." Now he is using his fame to help other gay children by recording a special version of "Lay Me Down" with John Legend for Comic Relief. You go, Sam!
ICYMI, a mini-Harry Potter reunion happened over the weekend. Tom Felton who played Draco Malfoy in the movie franchise reunited with his co-stars James Phelps, Bonnie Wright, and Rupert Grint. Tom shared the snapshot on his Instagram account, captioned, "Kim K stood me up. Outnumbered by 3 Weasleys. Ugh." Don't you just miss seeing these cuties and the rest of the HP gang together?
ADVERTISEMENT - CONTINUE READING BELOW
Got your own gossip to share? Let us know in the comments or tweet us @candymagdotcom. We always love hearing from you. :)