Remember Daniel Sharman, the guy from Teen Wolf and The Originals who hung out in the Philippines for a while earlier this year? Well, you'll be seeing him on a TV pilot soon. The actor just bagged a starring role on the CBS pilot LFE. According to Deadline, the story revolves around second year residents in a New York City hospital and Daniel will play one of the talented doctors on LFE. Check out his tweet recently. This cutie's just as excited as we are!
To work in NYC x pic.twitter.com/pUFcMCMcKv

— Daniel Sharman (@daniel_sharman) March 8, 2015
We know you want more music from the Insurgent soundtrack after we reported that Haim and M83 collaborated for the haunting song "Holes In the Sky." So we're super glad to tell you that Woodkid and Lykke Li's track "Never Let You Down" is here and it will satisfy your craving for good music. Hit the play button below to listen to it now. Divergent Series: Insurgent is set to hit theaters on March 19.
ADVERTISEMENT - CONTINUE READING BELOW
Looks like John Mayer is getting tired of people linking his song "Paper Doll" to his former romance with pop sensation Taylor Swift all the time. During his interview with MSNBC, the hitmaker revealed that he wants people to listen to their songs as musical pieces. "I put out a song called 'Paper Doll.' The song never got listened to as a song. It became a news story because of the lyrics," he said. "Let's just…everybody stop. Nobody's got an incurable cancer. We're rich people who get to live out our dreams. Let's just stop it." He also spoke highly of his rumored ex and said that he respected Taylor so much for lending her voice to creating change, like that recent battle she had with Spotify.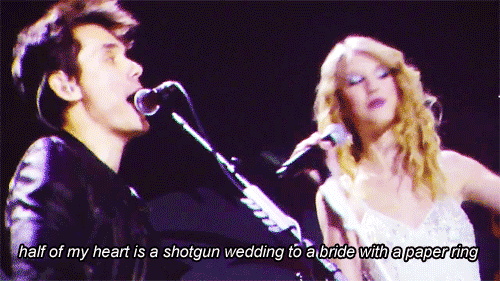 via tsweezys.tumblr.com
ADVERTISEMENT - CONTINUE READING BELOW
Most people know how much Demi Lovato is a fan of American Idol winner Kelly Clarkson (she used the screen name "Little Kelly" when she was younger, that means a lot). The "Heart Attack" hitmaker even made a list of people she wanted to collaborate with in a tweet. Turns out, her dream of working with Kelly almost happened. In an interview with MTV News recently, the first AI winner revealed that it almost happened. "We almost got to work together, but I was pregnant and she had asked me to sing. I totally was down, but it just didn't work out," she said. "She was touring, I was super pregnant and not feeling well and it didn't work out this time, but it totally will." It. Totally. Will. Here's hoping the two finally work on a track together soon, since Demi is working on her fifth album already.
ADVERTISEMENT - CONTINUE READING BELOW
Dream Collabs: Kelly Clarkson (duh), Eminem, Ed Sheeran, Marc Anthony, Christina Aguilera, Macklemore, Lil Wayne, Nicki Minaj, & Drake 🎶🎶

— Demi Lovato (@ddlovato) April 29, 2014
We know we told you five things, but you all should watch these two videos today!
First is Ella Henderson's music video for her latest single "Mirror Man." Watch her sing her heart out and kiss good-bye a guy who, as she sings, is clearly more in love with himself than with her. Yikes! "Mirror Man" is part of Ella's debut album Chapter One, which is now available in record stores and via iTunes.
Disney's Tomorrowland also released its latest trailer today. Watch George Clooney and Britt Robertson meet for the first time and get to see more of the other world in this video clip. Tomorrowland is set for release in May.
Got your own gossip to share? Let us know in the comments or tweet us @candymagdotcom so we can talk! :)
ADVERTISEMENT - CONTINUE READING BELOW