All Access
5 Things You Missed Today (June 3)
Don't miss today's updates on Nick Jonas's new song, more Harry Potter and the Cursed Child Parts One and Two casting news, Gigi Hadid and Zayn Malik calling it quits, Fifth Harmony signs autographs for fans all over the world, and why Zendaya is sticking with Disney!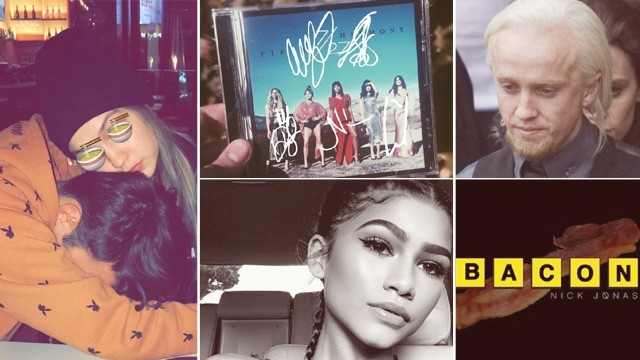 Fifth Harmony fans, you're in for a big treat! While this girl group isn't coming to Manila anytime soon that doesn't mean you can't score an autograph from them! In line with the promotion of their new album 7/27, the girl group is giving fans virtual autographs via Twitter. All you have to do is tweet them a photo of their album and they'll sign your copy digitally, and tweet it right back at you. Super cool! (Teen Vogue)
ADVERTISEMENT - CONTINUE READING BELOW
Nick Jonas will be releasing his new album Last Year Was Complicated next week and we cannot contain our excitement anymore! If you're dying of anticipation just like us, then you're in luck because Nick just dropped his new song, Bacon! Just a few hours before the song was released Nick tweeted, "Life is so good you might as well throw some #Bacon on it. Tonight on @iTunes." We couldn't agree more, JoBro! (Just Jared Jr)
ADVERTISEMENT - CONTINUE READING BELOW
Harry Potter and the Cursed Child Parts One and Two has been slowly building the anticipation by releasing the different cast members of the play. Today, they announced the actors playing Draco and Scorpius Malfoy. Alex Price signed up to play Draco Malfoy while Anthony Boyle is set to play his son Scorpius. We can't wait to find out what this father and son duo have in store for the Potters and the Grangers-Weasleys. (Pottermore)
ADVERTISEMENT - CONTINUE READING BELOW
Shake It Up may be long gone, and Zendaya may be all grown up now but she continues to choose to be a part of the Disney family for a very important reason. According to her interview with Cosmopolitan for their June 2016 issue, it is very important for Zendaya for a channel to have diversity. "It's hard as a young person of a different ethnicity or background to look at the TV and not see anyone who looks like you. Representation is very important," she said. (Tigerbeat)
ADVERTISEMENT - CONTINUE READING BELOW
After the shocking Taylor Swift and Calvin Harris breakup yesterday, dream couple Zayn Malik and Gigi Hadid, also called it quits after dating for just seven months due to constant miscommunication and the two having a hard time getting along with each other. According to a close source of the two, Gigi would love to work things out Zayn, and the two would most likely get back together soon. Aww! We hope so, too Gigi! (E News!)
If you're desperate for a cut, YouTube is your best friend.
She recently sang it again during an Instagram Live with husband Taylor Goldsmith!
They also had a short jam session!
"I was genuinely afraid I would die, because that is what it felt like."
If you haven't already picked up on that.
It'll be just like the good, old days-except now, you can watch it any time, anywhere.
Molo has since posted his public apology online via Instagram stories.
Finally, something to look forward to.
This is just heartbreaking.
For "a different kind of positive," as designer Ram Silva puts it.
All you need is coffee, hot water, and milk sugar is optional!