All Access
5 Things You Missed Today (July 15)
Don't miss the latest on Kim Kardashian's diss on Taylor Swift on KUWTK, Katy Perry's new song, more baby drama for Louis Tomlinson, and Gigi Hadid's first ever American Vogue cover.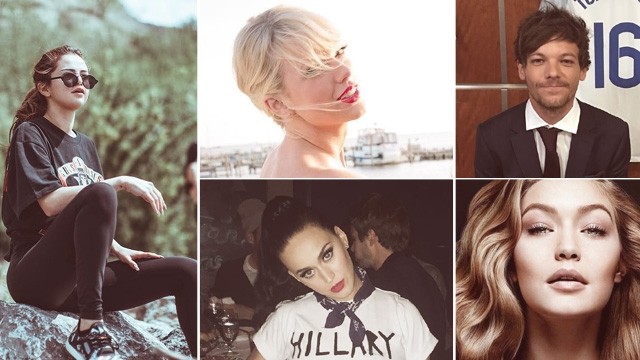 IMAGE Selena Gomez | instagram.com/selenagomez, Taylor Swift | instagram.com/taylorswift, Gigi Hadid | instagram.com/gigihadid, Louis Tomlinson | www.instagram.com/louist91, Katy Perry | instagram.com/katyperry
Selena Gomez is not new to the paparazzi following her anywhere she goes hoping to snap a good photo of her. Unfortunately, while the paps were crowding over Selena's car after a salon trip, she hit the fence behind her. Good thing Selena is A-okay after the minor crash. You can watch the full video here! (Dolly.com.au)
First it was Calvin Harris, then it was Katy Perry, and now Kim Kardashian has joined the anti-Taylor Swift club. Kim K mentioned in a GQ interview before that Taylor Swift knew about the controversial lyrics in Kanye's Famous prior to the release, and she's talking about it now on the latest episode of KUWTK. Grab your popcorn and watch the video below! (Dolly.com.au)
It's been quite some time since Katy Perry released a new song, but the Firework singer recently surprised the crowd by releasing a new single, "Rise," for the 2016 Rio Olympics! The track has also been chosen to be the anthem before and after the Rio Games. Wow! Way to go, Katy! (Entertainment Weekly)
It's no secret that Louis Tomlinson is facing a lot of drama with baby Freddie's mom, Briana Jungwirth. But most of the time these two keep things out of the public eye as much as they can until today. Briana recently posted a tweet that is seemingly directed at Louis' current girlfriend Danielle Campbell. Aww, we hope that Louis and Briana patches things up soon for baby Freddie's sake. (J-14)
On a much happier note, Gigi Hadid is undeniably one of the top models of today's generation. She's walked in so many iconic catwalks including Victoria's Secret, and now she's landed her first ever American Vogue cover! Congrats Gigi! You look absolutely perfect! (Teen Vogue)
Got gossip to share? Leave a comment below!
\\\\\\\\\\\\\\\\\\\\\\\\\\\\\\\\\\\\\\\\\\\\\\\\\\\\\\\\\\\\\\\\\\
Get the latest updates from candy!
subscribe to our newsletter!
////////////////////////////////////////////////////////////////
You know you'll regret it.
You don't even have to leave the house!
From digital art to photography to mixed media, Filipino artists show that creativity is never lost in our people.
Skip a makeup step with these beauty goodies!
Take pretty notes and study effectively with these tips!
Wait for a love like this. A love that is good to you, for you.
Are you up for this challenge?
Can't wait to see the actual gowns!