Still can't get over Love, Rosie? Here's something to make you more into the movie, like the rest of us. The movie's stars—Sam Claflin and Lily Collins—revealed a few things about working on this project in their interview with Teen Vogue. Our favorite? When they revealed their favorite scenes to shoot in the film.
Lily said it was their dance scenes together. "I think some of my favorites were the dancing scenes with Sam because it brought me back," she said. "Basically I was reliving times with my best friends. It made me realize how much I missed kind of letting go."
For Sam, on the other hand, it was those first days of shooting. "We also shot a scene during the sunrise of us two breaking fortune cookies," he said. "It was six in the morning on the first day of shooting, and you kind of just walk away thinking if it's going to be like this every day, it's going to be very special." Did you watch Love, Rosie when it was shown in cinemas last month? What was your favorite scene from the movie?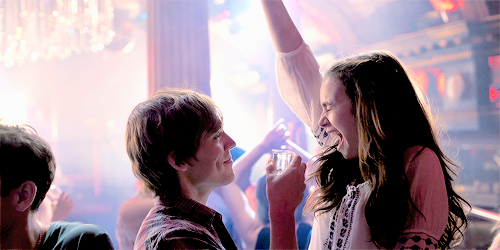 ADVERTISEMENT - CONTINUE READING BELOW
via dailylilycollins.tumblr.com
We know you're all excited for the premiere of Kathryn Bernardo and Daniel Padilla's love month movie, Crazy Beautiful You. So here's something to excite you more: Star Cinema released the teaser for the movie recently. Woot, hit the play button to watch it now—and give yourself your much-needed dose of kilig today. Crazy Beautiful You is set for release on February 25.
In her cover story for Elle Magazine, Katy Perry calls Taylor Swift "the sweetheart" of the media. The singer was asked to cast pop stars in a soap opera and she has this to say: "As pop figures, we're all characters," she said. "And the media uses that. Who is the sweetheart, who is the villain? You know. Taylor's the sweetheart. Kanye's the villain. That's the narrative." This is especially surprising for most people since there's been rumors of a feud going on betweet Katy and T-Swizzle—even bigger rumors that Tay's 1989 song "Bad Blood" is about her. Now her recent story is making all of us think. Was she being sarcastic or just stating the obvious? Hmm, what do you think of this update, Candy Girls?
Someone from The Vampire Diaries is headed to The Flash. Malese Jow, known as Anna to TVD fans, will be appearing on the superhero series' latest episode. She will play the character of reporter Linda Park, Barry's (Grant Gustin) other love interest since it never worked with Iris (Candice Patton). Linda is expected to give Iris and Barry's pairing a little shake. "Iris is a strong woman, but Linda is not only strong, but she's also secure and confident, and she's a veteran at the paper," Malese explains in an interview with MTV. "And now she's the new object of Barry's affections, so there's already a little bit of tension there between Linda and Iris." So are you going to be on Team Iris or Team Linda? Let us know once you watch this episode of The Flash, Candy Girls!
Good news to fans of Disney's Frozen! A Frozen animated short is in the works and you can watch it when you hit cinemas and see the live action adaptation of Cinderella. Frozen Fever will bring you to a few months after the entire gang got their happily ever after—during Elsa's birthday. The twist? She has a cold. Watch the featurette about the short film below and make sure to block off March 12, the Philippine premiere date for Cinderella.
Got your own news to share? Let us know in the comments or tweet us @candymagdotcom. We always love hearing from you, Candy Girls. :)
ADVERTISEMENT - CONTINUE READING BELOW