Recently, the Internet went cray over rumors that Prince Harry—yes, Prince William's brother and Prince George's uncle—is dating Emma Watson. According to reports, the two were secretly hanging out together. Of course almost everyone shipped them right away. Because Harry/Hermione, right? But the UN Women Goodwill Ambassador denied all rumors in two classic Emma tweets.
WORLD ♥ Remember that little talk we had about not believing everything written in the media?!

— Emma Watson (@EmWatson) February 22, 2015
And of course she had to remind us of something very important, too. This is why Emma is the perfect spokesperson for #HeforShe. Are we right, or are we right?
also..... marrying a Prince not a prerequisite for being a Princess. https://t.co/vjodTAgEcC - Courtesy of Alfonso Cuaron.

— Emma Watson (@EmWatson) February 22, 2015
It's finally here! Selena Gomez and Zedd's song together is finally out! After teasing us with their posts (and after the song leaked earlier!), these two musicians finally released "I Want You to Know" on iTunes and gave us a listen on YouTube. We're still waiting for the music video of this song that totes sounds like Sel's love letter to her rumored boyfriend. Whether or not they're together for real, let's hope they make more beautiful music together.Listen to it below and let us know what you think of their dance-y track in the comments!
READ: Anne Hathaway Had the Best Instagram Post of the Night
We all know by now that Jennifer Lawrence, one of our favorite girls in the world, is a legit recording star after selling copies of The Hunger Games: Mockingjay Part 1 hit song "The Hanging Tree." So it's only natural that in support of her new career (LOL!), we expect that her good friend and onscreen partner Josh Hutcherson would buy the song. Turns out we're wrong because on the Academy Awards red carpet, Josh told Ryan Seacrest that he only had the song on his phone because Jen stole it and downloaded it for him so she's sure he has it. Classic Jen.
ADVERTISEMENT - CONTINUE READING BELOW

via f*cktheloveiwillneverhave.tumblr.com
READ: Neil Patrick Harris, Anna Kendrick, Adam Levine, and More Celebrities Performed on the #Oscars2015 Stage
Meanwhile we're still not over the Academy Awards earlier, and here's another thing we loved from the show: Eddie Redmayne's reaction when he won Best Leading Actor for his portrayal of Stephen Hawking in The Theory of Everything. He clearly cannot believe he just won the title and even shrieked onstage in the middle of his acceptance speech. Aww, congratulations, Eddie!
Best Supporting Actress winner Patricia Arquette of Boyhood gave empowering words for women everywhere in her Oscars acceptance speech. She may be speaking to American women, but we can all use some inspiration today and what she said nailed everything we want in life.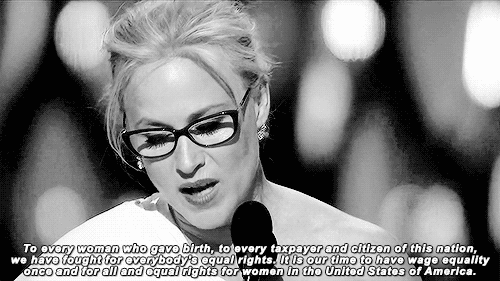 via incomparablyme.tumblr.com
Even Meryl Streep think so, too.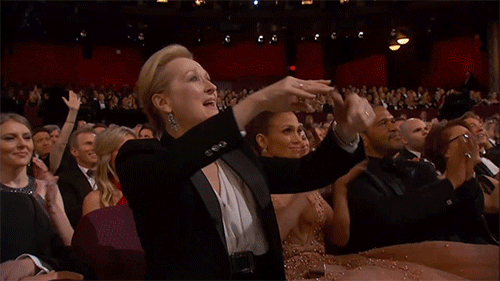 via mtv.tumblr.com
And here's a bonus: We know that you feel like you don't fit in most of the time, our dear Candy Girls. So when we listened to Graham Moore's acceptance speech when he was named the winner for Best Adapted Screenplay for The Imitation Game, we thought these are the very words we all want you to remember.
Got gossip to share? Let us know in the comments or tweet us @candymagdotcom to join the conversation. :)