You have never heard One Direction's "They Don't Know About Us" like this, and you should. Fifth Harmony is promoting their latest album Reflection these days so during one of their appearances, they chose to do a cover of the 1D track. When can we listen to a collaboration, you guys? After all, Liam Payne gave their album a shoutout on Twitter recently and 5H revealed on the Big Morning Buzz Live that they'd want to work with the boyband, too. Someone make this happen, please!
What do you get when you put Taylor Swift and Jimmy Fallon together? You get one hilarious sketch. Don't believe us? Hit the play button of T-Swizzle's appearance on The Tonight Show Starring Jimmy Fallon recently where she showed off her Jumbotron dance moves. These two are the cutest!
Speaking of T-Swizzle, there have been rumors recently that she is dating singer Hozier. These reports started when the two were spotted in a Grammy Awards after-party recently. But the Irish musician told Us Weekly that there's nothing romantic going on between them. "It's not romantic," he said. "She's just a huge fan!" Even sources confirmed it saying they're really just friends. While we really don't mind if these two dated for real, we just wish they stopped making romantic connections in an instant whenever Tay is spotted with a guy. Maybe they're just talking about something else when they were spotted, like a collaboration? We'd really love that.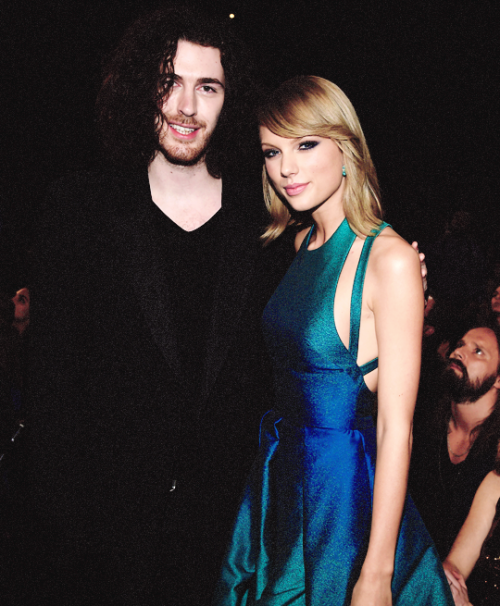 via myjourneytofearless.tumblr.com
ADVERTISEMENT - CONTINUE READING BELOW
ICYMI, Lionsgate recently gave us a glimpse of Peeta's (Josh Hutcherson) stay in the Capitol in this recently-revealed deleted scene from The Hunger Games: Mockingjay Part 1. In time for the movie's HD release, the people behind Mockingjay gave fans something they could go crazy about. We never saw what happened to Katniss's (Jennifer Lawrence) fellow tribute while he was under President Snow's power, but we're finally getting an idea in this clip. Now we know why the people behind the movie cut it off—so we'd all get a feel of what our heroine is going through. Hit the play button to watch the clip now.
President Snow threatens Peeta in an EXCLUSIVE deleted scene from #Mockingjay Part 1 - on Digital HD TOMORROW! https://t.co/nFTZTjyMZA

— Mockingjay - Part 1 (@TheHungerGames) February 16, 2015
Right now we're wishing we actually lived in NYC. Why? Because Glee star Darren Criss is returning to Broadway for Hedwig and the Angry Inch and we want to watch him! It's a musical about a transgender rocker looking for love in the USA, so he's expected to wear wigs and heels and we totes think he can pull it off. Good luck on this new project, Darren!
ICYMI:
Can Beyonce and Ed Sheeran Do an Original Song Already?
Heartbroken? Taylor Swift Has the Perfect Playlist For You
Emma Watson Stars in the Thriller 'Regression'
Got news to share? Let us know in the comments or tweet us @candymagdotcom to join the conversation. :)