All Access
5 Things You Missed Today (December 8)
Don't miss today's updates on Ed Sheeran's prank, Sam Smith's new tattoos, Jared Leto's apology on Twitter, Selena Gomez's upcoming music video, and David Archuleta's newest project!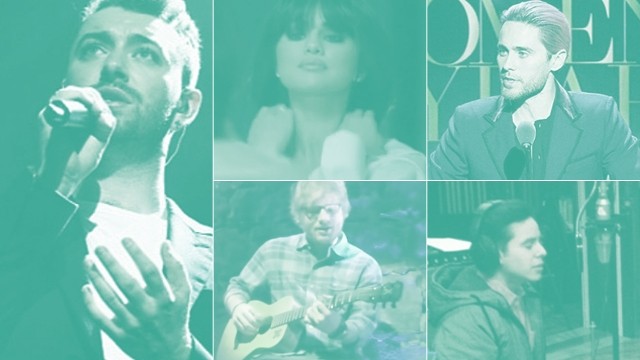 PHOTOS YouTube (screengrab), Instagram (@samsmithworld, @jaredleto, @taylorswift, @davidarchie), Twitter (@selenagomez)
Would you pay $2 to watch Ed Sheeran perform live even just for 30 seconds? We definitely would! For a prank, the singer-songwriter sat in a peep show booth (which has a bad rep in other countries!) to play for 30-seconds to paying customers—who didn't believe the whole thing. Watch what happens in this funny video below. Spoiler: One couple took the risk, and we're glad they did! (via JustJaredJr.com)
Sam Smith got four new tattoos and they all have really inspirational meanings! The singer recently shared the photos on his Instagram along with captions which explained what they stood for. The first one is the equality sign on his ring finger, which he said explained his "views on gay marriage and equality for all." The second one is a tattoo inspired by "inspired by one of the oldest tattoos ever found on a mummified body that was found buried alone in the ice." Third is the word honesty, which he says he'll "promise to be in my music." And the last one is the word alone, which meant that he's just alone but not lonely. Aww, how inspiring, Sam!
ADVERTISEMENT - CONTINUE READING BELOW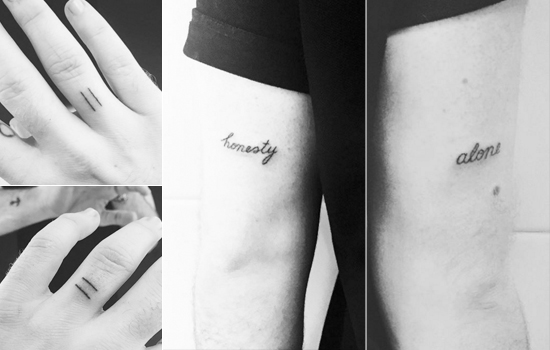 photos via Instagram (@samsmithworld)
Earlier today, a video of actor and 30 Seconds To Mars frontman Jared Leto surfaced wherein he dropped the f-word while listening to Taylor Swift's 1989 during a private sesh with the band. He gave honest points on the songs, but it ended with him dropping the word which upset some of her fans. Jared apologized on Twitter later on for what happened. (via MTV.com)
ADVERTISEMENT - CONTINUE READING BELOW
The truth is I think @taylorswift13 is amazing + an incredible example of what's possible. If I hurt her or her fans my sincerest apologies.

— JARED LETO (@JaredLeto) December 7, 2015
READ: Justin Bieber Shared Another Throwback Photo of Him With Selena Gomez
Whoa, Selena Gomez shows off her body in this teaser for her upcoming video for "Hands To Myself." No word yet on when she's going to release the video, but we're hoping we get to watch this soon. (via Cambio.com)
Catch the sneak peak of my #HandsToMyself video featuring the #NewBeatsPill! 🎥 https://t.co/ZQTfAKUoH4

— Selena Gomez (@selenagomez) December 7, 2015
Missed American Idol finalist David Archuleta? Looks like the singer is up to something this Christmas season. According to his latest Instagram post, he is working on an acoustic version of one of his songs from his 2009 Christmas From the Heart album. Yay! We definitely missed listening to his voice and his songs, and this season is the perfect time to do that. (via J-14.com)
READ: SPOTTED TOGETHER: Niall Horan and Ellie Goulding at the Dallas Jingle Ball
Got gossip to share? Let us know in the comments! :)
Many of our favorite K-drama actors right now actually started out as idols!
Thailand rethinks its elephant strategy.
Who else wants a basket full of mojos?
We're hoping to see more of these in different LGUs!
Sometimes, no matter how hard you try, some people just won't vibe with you, and that's totally fine.
Have you tried the #ComeAroundMeChallenge?
The cheerleading docu-series is a phenomenon.
A lot of them are dirtier than a toilet seat.
The kind of wholesome content we all love to see.