Looks like Cara Delevingne has bagged another role in a movie. Okay, we're clearly getting ahead of ourselves. But with good reason. Ben Stiller, star of the hit movie, Zoolander, wants the model-slash-actress in the sequel which he revealed in an interview with MTV UK. "She's amazing," he said. "I definitely would." We totes dig that, too, and hope it pushes through after they're done finalizing the script.
Raise your hand if you watched the livestream of One Direction: The TV Special which aired earlier today on NBC. It was truly a wonderful time for fans as we were treated to a great time of taking in the beauty that is One Direction. One of the best Christmas presents we can ever get, really. What were your fave moments from the special, Candy Girls? Let us know in the comments. Oh and happy birthday, Louis Tomlinson! This cutie turns a year older today.
ADVERTISEMENT - CONTINUE READING BELOW
Nicholas Sparks fans are surely having a wonderful Christmas. The author of best selling romance novels turned tearjerkers, like A Walk To Remember and The Notebook, has another movie coming up. Starring The First Time's Britt Robertson and Scott Eastwood, The Longest Ride chronicles the love story of Luke (a handsome bull rider) and Sophia (a college student) intertwined with the love story of another couple.
ADVERTISEMENT - CONTINUE READING BELOW
Getting sick of #AnselFromTarget? Good thing The Fault in Our Stars actor, Ansel Elgort came up with #AnselFromChipotle recently, sharing a cute snapshot of himself at the burrito restaurant. Cutie! Wish he can do that here in the Philippines, too, right?
After getting backlash for her song, "You Suck," Abigail Breslin finally talks about her rumored relationship with 5 Seconds of Summer's Michael Clifford (which many assumed was the subject of the song) in an interview with HuffPo Live. "You know, the song is about a bunch of different people that I've known," she explained. "It's not about one person in particular." Talking about her rumored connection with Michael, Abi said, "We never dated. We literally hung out twice. He got me tickets to a One Direction show and we went to dinner and that's it."
ADVERTISEMENT - CONTINUE READING BELOW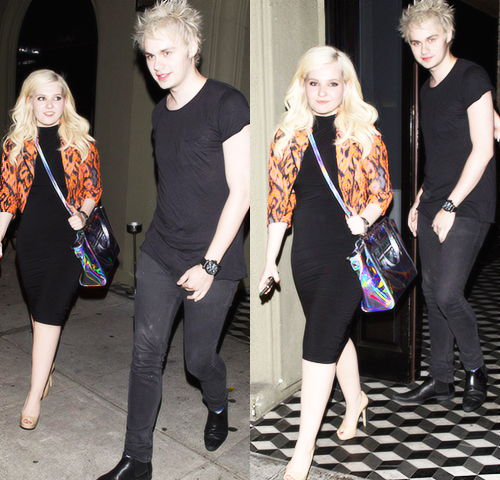 via a5sosdiary.tumblr.com
Got gossip to share? Let us know in the comments or tweet us @candymagdotcom. We always love hearing from you. :)