This isn't the first time for the former Camp Rock castmates to perform onstage. And do you remember when Nick Jonas collaborated with Demi Lovato for her tour? We were super happy to see this video of Nick Jonas and Demi Lovato performing their duet "Avalanche" at the KIIS FM Jingle Ball 2014. It slightly feels like watching Camp Rock all over again!
Can you guess all the references in the YouTube Rewind: Turn Down for 2014 video released by the video-streaming site earlier? The video celebrates all the moments, memes, and people who have made their mark in 2014. Hit the play button and tell us in the comments how many references you get right.
The first trailer for Joseph Gordon Levitt's upcoming thriller, The Walk, is finally out. Based on the true story of French high-wire artist Philippe Petit's book, To Reach the Clouds, The Walk chronicles a young artist's dream to do the impossible: an illegal wire walk between the World Trade Center towers. Directed by Robert Zemeckis (Polar Express and Forrest Gump), the film is set to premiere in Philippine theaters in October 2015.
ADVERTISEMENT - CONTINUE READING BELOW
The Golden Globe Awards, an event recognizing excellent work in movies and TV bestowed by the Hollywood Foreign Press Association (HFPA), is announcing the nominees on December 11 (about 9:20 PM our time). Leading the announcements of the nominees for the 25 categories are Kate Beckinsale, Peter Krause, Paula Patton, and Jeremy Piven. If you want to watch the revelation live, you can visit www.GoldenGlobes.com or www.HFPA.org. The 72nd Golden Globe Awards will be hosted by Tina Fey and Amy Poehler for the 3rd time in a row on January 11, 2015.
ADVERTISEMENT - CONTINUE READING BELOW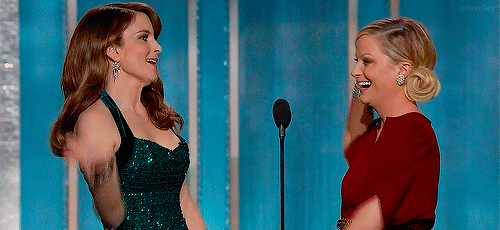 via nbcsnl.tumblr.com
ADVERTISEMENT - CONTINUE READING BELOW
SM Entertainment finally released a statement regarding the plagiarism issue surrounding the Department of Health's (DOH) anti-teenage pregnancy video campaign, which used a song that has similarities with "Rum Pum Pum Pum" by South Korean girl group f(x). According to the statement, SM Entertainment hasn't allowed the use of the song and that they are now taking actions after confirming it with the song's publisher.
Got news to share? Let us know in the comments or tweet us @candymagdotcom. We always love hearing from you. :)