Just got your heart broken? This cool breakup anthem from Iggy Azalea and Rita Ora might help you move on. Co-written with Katy Perry, "Black Widow" screams of pain and hurt with its razor-sharp lyrics. Listen to the song below or, better yet, sing it to the person who's caused you misery!
Speaking of Katy Perry, the singer released a fun new teaser for the music video of her song "Birthday Party" earlier. In this video, Katy impersonates different birthday party entertainers. She looks and sounds hilarious doing it!
Excited for Pitch Perfect 2? We have good news for you. The cast's already rehearsing for the movie! Rebel Wilson tweeted a photo of them during their session earlier, and everyone looked as excited as us. Directed by Elizabeth Banks, Pitch Perfect 2 will be out in theaters on May 2015.
1st day of PP2 rehearsals! @EsterDean @Brittanysnow @kelleyjakle @AlexisKnapp @hanamaelee @ElizabethBanks x pic.twitter.com/hgiElAUHjh

ADVERTISEMENT - CONTINUE READING BELOW

— Rebel Wilson (@RebelWilson) April 22, 2014
Fans of Nickelodeon TV series Sam & Cat panicked yesterday when the hashtag #RIPCatValentine trended on Twitter. Most of us thought that Ariana Grande, who plays Cat in the show, is bidding us goodbye. Good thing a fan messaged the singer via Twitter to confirm the news, and Ariana took a few minutes out of her busy schedule to assure us that she doesn't know the show's direction yet—so she can neither confirm nor deny the rumors. We hope Ariana and her co-star Jennette McCurdy patch things up soon, so no one has to leave the show.
SHE ANSWERED ME OMG AND GUYS HERE IS THE TRUTH #ripcatvalentine #6daysuntilproblem pic.twitter.com/ClEK6RkA8X

— jdb (@grandeforeverx3) April 21, 2014
Is this Adam Levine's last season as coach for The Voice? Unforch, it may be. The Maroon 5 frontman revealed that he has to check his schedule first if he can still accommodate the show's next season. These rumors have been circulating for a while now and all Adam said was, "I've got to check my schedule." We certainly hope he won't leave. Who would be Blake Shelton's bromantic buddy if he does, right?
ADVERTISEMENT - CONTINUE READING BELOW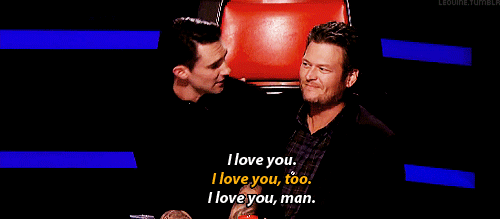 via leovine.tumblr.com
What do you think of today's news, Candy Girls? Tell us in the comments or tweet us @candymagdotcom!