All Access
5 Things You Missed Today (April 17)
Make sure you don't miss the latest on Echosmith's newest video, Star Wars' latest trailer, Pitch Perfect 2's KPop-infused movie clip, Amandla Stenberg's amazing words on black culture, and Dakota Fanning's upcoming movie.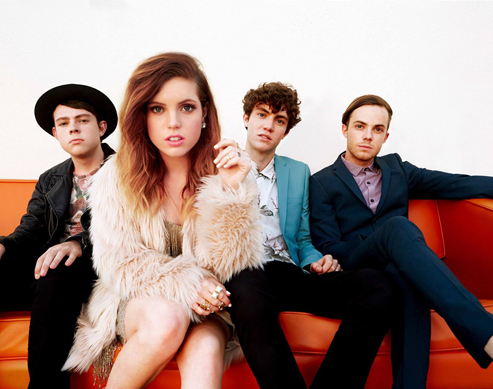 We know you're all looking forward to Echosmith's return to Manila this year, so here's another song you should memorize in preparation for their August concert. The group just released the lyric video for "Bright" and we've been singing along to this video since this morning. Make sure to check it out ASAP. And while you're at it, treat yourself to a copy of Echosmith's latest album Taking Dreams via iTunes.
We've been getting teeny tiny updates about a new Star Wars movie and a really short teaser before, but now they're giving us more in the new teaser for Star Wars: The Force Awakens. Are you a fan of the movies or do you want to watch it this December? Let's talk in the comments because we want to hear from you.
And the pitches are back! Have you seen the newest trailer for Pitch Perfect 2? We're super glad to see Skylar Astin and Anna Camp finally! We really were a little worried that they'll only have a few appearances in the film, but now we're relieved. Plus, were you also able to recognize KPop group Big Bang's "Fantastic Baby" used for the trailer's closing? Ahh, so good, right? We just can't wait for the movie to come out next month!
ADVERTISEMENT - CONTINUE READING BELOW
ICYMI: Emma Stone and Ryan Gosling Are In Talks To Star In a Musical Together
As part of her history assignment, The Hunger Games actress Amandla Stenberg talked about how pop stars have used black culture as a way for "gaining more attention." She even included a few examples from their music videos. Listen to her amazing words in the video below and discuss it with us in the comments.
After her creepy role in the Twilight series, Dakota Fanning shows us her creepier side in the movie adaptation of Laura Lipmann's Every Secret Thing. We have no words on how much we're looking forward to watching this film because this trailer is everything. Every Secret Thing also stars Elizabeth Banks, Danielle MacDonald, Common, Diane Lane, among others, and is set for release in May.
ICYMI: #HandwrittenAtMidnight: Shawn Mendes Released His Album on iTunes
Got gossip to share? Let us know in the comments or tweet us @candymagdotcom. :)
Watch more of Paulina and Vico's sibling banter here.
There are certain trends we can incorporate into our looks here in the PH!
Dr. Michele Alignay talks about "emotional distancing."
Looks like the Philippine Philharmonic Orchestra likes Captain Ri's music!
Iced, hot, and frapuccino-style!
Achieve that crunchy Chickenjoy skin.