All Access
Harry Styles Defending His Fans on the 'Dunkirk' Red Carpet Will Make You Love Him Even More
Preach, Hazza, preach!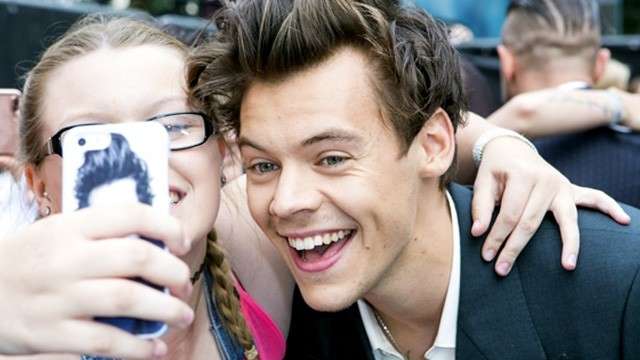 IMAGE Liam Arthur Norris
While we never doubted it, Harry Styles has just proven once again that he really adores his fans. Recently, Harry made his big screen debut and walked the red carpet premiere of Dunkirk when one reporter asked Harry about his fans saying, "Harry, do they follow you absolutely everywhere?" We can only assume that Harry placed this person in her place when he replied with, "Oh, they're the best people in the world." And this wasn't the only time, Candy Girls! In Harry's Rolling Stone cover story, he also came to the defense of his younger fans, saying, "Who's to say that young girls who like pop music—short for popular, right?—have worse musical taste than a 30-year-old hipster guy? That's not up to you to say. Music is something that's always changing. There's no goal posts. Young girls like The Beatles. You gonna tell me they're not serious?"
ADVERTISEMENT - CONTINUE READING BELOW
With this, he also stressed that the young girls are our future doctors, lawyers, mothers, presidents, and keep the world going. Bless you Hazza! (via teenvogue.com)
Teenage-girl fans—they don't lie. If they like you, they're there. They don't act 'too cool.' They like you, and they tell you. Which is sick." —Harry Styles
Oh no, did you know that Kisses Delavin almost quit showbiz because of her conflict before with love team partner Marco Gallo? Their conflict started back inside the Pinoy Big Brother house and Kisses admitted that when they got out of the house there was suddenly a wall between them and they didn't speak to each other unless it was really important. But since they got partnered with each other as a love team, Kisses revealed that she was having a hard time working with Marco to the point that she thought that it was time to leave. But as they worked with each other, they slowly opened up to one another. Kisses is thankful for their work, because of it, they were given a chance to mend their friendship. (via pep.ph)
ADVERTISEMENT - CONTINUE READING BELOW
"Kaya thankful ako for everyone giving us an opportunity, kasi nagkaroon ng chance ulit 'yung friendship."—Kisses Delavin

We're so sad that Louis Tomlinson's mom lost her fight with leukemia at only 47 in December of last year. During that time, reports said that Louis' mom's dying wish was for him to push through with his singing career. But what we didn't know at the time was that she had another wish for her son. In a new interview with The Sun, Louis revealed that his mom's other wish was for him to mend his relationship with former bandmate Zayn Malik, saying that life is too short. Louis followed his mom's advice and met up with Zayn saying that it was nice, "I would always see the good in Zayn and also watch him shoot himself in the foot with some of his decisions, but he's just a little misunderstood." Glad that things are okay with the boys. We're sure Louis' mom would be happy, too. (via cosmopolitan.com.au) 
ADVERTISEMENT - CONTINUE READING BELOW
ICYMI: Did you know that Louis just dropped his new single "Back to You" today? Listen to it here. It's so good, you guys! (via justjared.com)
Cara Delevingne is just the ultimate cool girl. She just proved that she could do it all with modeling, acting—and now, singing! Thanks to her movie "Valerian," she was able to showcase her singing skills on the movie's soundtrack. Hit play to listen to her she sing "I Feel Everything." (via refinery29.com)
The frontman and amazing singer Chester Bennington of Linkin Park, ended his life and committed suicide at the age of 41. Chester struggled with alcohol and drug addiction and he told Team Rock last December that in 2006, he had the choice between stopping drinking or dying. "I did some counseling with the guys and they really opened up and told me how they felt. I had no idea that I had been such a nightmare. I knew that I had a drinking problem, a drug problem and that parts of my personal life were crazy but I didn't realize how much that was affecting the people around me until I got a good dose of 'Here's-what-you're-really-like.' It was a shock." TMZ reported that in the past, Chester considered committing suicide because of the abuse he experienced when he was a child. (via teenvogue.com)
ADVERTISEMENT - CONTINUE READING BELOW
Got more goss? share them with us in the comments!
While there is still a long way to go, it's become so much easier to find like-minded people who share the same cause.
It's a game for those who love to play around and break the rules.
Truth is, you don't need to spend a lot to achieve the feed of your dreams or build your portfolio.
Now's your chance to give back.
What's 'savings?' We only know 'merch.'
Feel good by smelling good, without shelling out a big chunk of your allowance!
Ward of the bad juju with the auspicious color red and the happy mouse.
Geraldine is part of Candy Rookies 2020, a group of influential and aspirational college students handpicked to represent #GenerationCandy in the year to come.
Looking to sport the long-haired look?
It's actually not an either-or situation.