All Access
5 Things You Have To Know About One Direction's History Music Video
That ending was cut!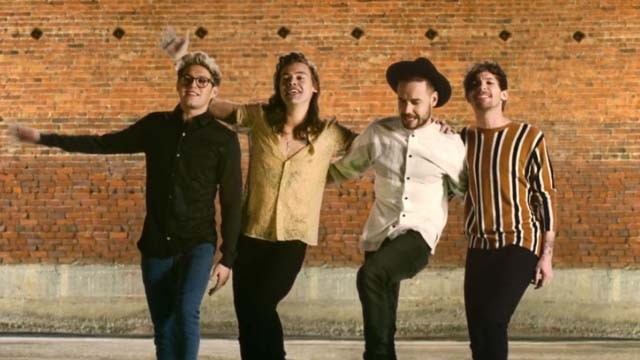 PHOTO SYCO Music/Ivory Music & Video
There's no doubt that One Direction's music video for "History" was an emotional one for us, their fans. Aside from all the old clips of the boys shown in it, the footage also comes in a very emotional moment for everyone—before the boys' hiatus next month. Here, watch the music video again:
MTV News talked to the music video's directors, Ben Winston, Calvin Aurand, and Gabe Turner, to ask them how "History" came to life and here are five things we thought you should know about it.
"History" was meant to both celebrate and look back on what the boys have accomplished in those five years. The directors even revealed that they didn't have an emotional time on set when they shot that footage of the boys singing against the brick wall.

"It is celebratory because it's been an incredible ride for everyone. It's been a joyous thing. It's always been a really positive experience," Calvin explained. "But obviously the emotion of it lies in the fact that they are taking a little break, and in the moments in the video where they hug and such, where you can kind of feel that it's not just the fans that are emotional, but they are too. They love their fans and they love what they do, and I think the video was just trying to share with their fans that they feel the same way."

CONTINUE READING BELOW

Recommended Videos

ADVERTISEMENT - CONTINUE READING BELOW

They didn't mind having Zayn Malik in the video. Even if he left the group almost a year ago, the directors didn't have any intention of leaving him out when they chose old clips of the boys.

"He's in there, of course. He was a big part of the band, so of course he should be in it," Ben said.

There was no emotional time on set when they shot it. "History" was actually shot in November and there were still a few remaining working weeks for everyone on the 1D team, and the four boys are really professional guys so they did whatever it is they had to in front of the camera. 

"They know they have a video to shoot and there's lots of people on set who are there to do a job and they show up and do theirs. I think that comes across in their performance," Calvin said. "When someone yells 'action,' they get up in front of the lens and do their thing and they do it incredibly. They always have... when it comes to all of the people involved, everyone's been a family. So everyone's in good spirits and everyone's working together and just trying to make the best possible product. So I hope that shines through, because that's always the ultimate goal."

ADVERTISEMENT - CONTINUE READING BELOW

The can-can dance was totally unplanned. One of everyone's favorite parts in the video is probably the boys doing the can-can, but that was unplanned. The boys just did it because the people on set were doing it, too.

"We were all dancing just as much as they were. Because this was our last video that we were doing for a while… so we were all having a bit of a party behind the camera," Ben revealed. "So I imagine that all of us, we were all doing the can-can and they joined in."

The original ending was cut. Yup, there's no reason for us to overthink because that ending of them walking to different directions was actually cut. The original ending was that they ran back in, but the good news is that they're planning to use that cut scene when they boys reunite in the future.

"Well actually, I see that a bit too much has been read into that one. I think too much has been read into that ending where they walk off in different directions," Ben said. "Because actually, they do run back together at the end. But I don't know why… Gabe, why did we cut that last shot where they run back together at the end?"

"It just didn't look that great. But there certainly wasn't any… it wasn't supposed to be them walking off, it was just kind of like an,'OK, see you in a bit, guys!'" Gabe said. 

"I think ultimately it's just an end to a video," Calvin also replied. "There shouldn't be anything applied deeper than that."

ADVERTISEMENT - CONTINUE READING BELOW
What's your favorite 1D music video, Candyrectioners? Let's talk in the comments. :)
It's a slap in the face when the person who eagerly swept you off your feet suddenly goes floating away.
They've got beauty and brains.
No more need for alt accounts.
Every corner is Instagrammable!
Store the small items scattered on your table in these cute trays!
Here's where you can score this bottled chocolate spread.
She may not have won the Miss Universe Philippines crown, but she's no doubt a true queen.
Did you know that Miss Universe Philippines 2020 is a licensed physical therapist?
Life is more fast-paced over there.
From The Candy Bulletin Community