All Access
5 Things We Love About The New Carrie Diaries
Welcome back, Kyddshaw and friends!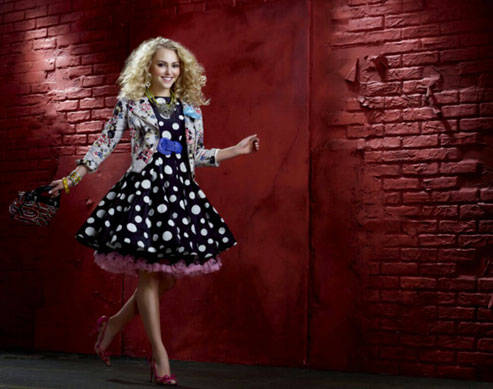 PHOTOS The CW/ETC
The clothes! The show is set in the '80s, but you'll notice that most of the clothes are absolutely wearable today. I'm obsessed with all the bicycle print tops and beat-the-heat #OOTDs. Totes perfect for the weather here, right?



Samantha Jones. The original Samantha, Carrie's more, um, risqué girl friend on Sex and the City, was played by Kim Cattrall. Lindsey Gort has all of her mannerisms down pat, and she even has Kim's blessing!



[blockquote:0]



So far, the new Samantha's best one-liner would have to be from episode two, when everyone got food poisoning. "No barfers left behind!"
Sebastian, the greatest abs in town. Hey, Donna LaDonna said it! And you know that whatever she says is gospel in Castlebury. Yes, he's guilty of kissing Carrie's best friend Maggie, but he's also fully aware of his crime and sincerely repentant—even if he and Carrie were on a break when it happened, as Maggie pointed out. Extra points for this:

Walt: (Carrie) knows how to take care of herself.

Sebastian: I know. I just don't want her to have to.
Swoon!


Double swoon! (via mirallegri.tumblr.com)

Larissa's loft. Since Carrie is crashing at her boss's NYC place for the summer (as your fashion and beauty guru Erin would say, love her life!), we get to see more of the super cool loft. Animal prints, feathers, sparkles—you name it, Larissa has it. Somehow, it all makes sense and the loft looks smashing. Fit for the queen that lives in it.



Dorky cuteness. There's a dork in everyone: Walt's sweat check just as Bennett approaches, Bennett and Walt's driving-the-car dance moves, and Carrie's dad's dish-order dish-aster puns. Adorkable.
The Carrie Diaries airs Mondays, 8pm on ETC.
Franki and Diana are this month's Eye Candy.
Think of astrology as a language that helps you feel and be seen.
It's like seeing Seo Dan and Seung-joon all over again!
The internet seems to love his lighthearted humor during these troubling times.
Many of our favorite K-drama actors right now actually started out as idols!
Thailand rethinks its elephant strategy.
Who else wants a basket full of mojos?
We're hoping to see more of these in different LGUs!
Sometimes, no matter how hard you try, some people just won't vibe with you, and that's totally fine.
Have you tried the #ComeAroundMeChallenge?
The cheerleading docu-series is a phenomenon.