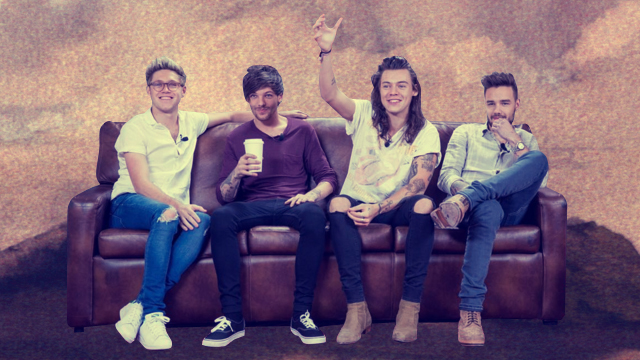 THIS IS NOT A DRILL LADIES! One Direction's break is dawning on us and we just can't handle all the feels. Even though it's just a break and not a breakup, our 1D-loving hearts are still breaking. Just how do we fill this void? We've tried full-on crying and sadly, it didn't work! Here are five things we can all do to deal with the major #sepanx:
1 Slide down a wall. Curl up into fetal position. Rock back and forth. Cry. JK! Marathon all One Direction music videos with your BFFs!
When was the last time you watched music videos featuring fetus One Direction? Do you still remember staying up late waiting for their video releases and breaking the replay button on Youtube? Those were the days! Fall in love with the boys over and over again by going through all their music videos from way back and yes, as far back as the video for "What Makes You Beautiful"! You need someone to hug you in between your sobbing episodes so make it a viewing party with your best girls.
READ: One Direction's Emotional Last Show In the US Before Their Hiatus Is Just Heartbreaking
2 Catch up on sleep and school work.
You need a break from all the fangirling too. Make up for all those sleepless nights watching One Direction interviews, reading One Direction fan fiction, and dedicating 100% of your time and attention to everything 1D. Catch up on friends and family too; you sure missed a lot with your mind always preoccupied, daydreaming of the boys, or reliving their 2-day rendezvous here.
ADVERTISEMENT - CONTINUE READING BELOW
3 Stalk the lads on social media.
Who are we kidding? Of course we'll still keep ourselves updated with how the boys are doing during their break. Maybe not as intense as before (let's give them some space, ladies!) but we will still check in from time to time to show the boys some love and to let them that we're still here no matter what.
4 Make some One Direction fan art.
Turn all the pain into something beautiful by making some art! Just look at these lovely 1D fan art. Draw, paint, write a song for them, use your talent to show how much you love the boys. Maybe all the love can make them return sooner? What's important is that we make them feel that they're dearly missed. Let these beauties inspire you to start working on that masterpiece.
5 Group hug with other Directioners.
It's a tough time for this fandom but we'll wait it out together. We could all use tight hugs, yes? Stay connected with your other directioner friends to battle the loneliness. Plus, reminiscing will not be that depressing when you're with good company.
The hiatus is a tough blow to all Directioners but let's not worry because the boys won't be gone forever. They deserve this breather (after five fantastic years of bringing us life and happiness) and let's be happy and proud of their individual projects. They won't lose us either because we're not going anywhere. We'll wait for your return, lads! As Liam said in a recent concert "We will see you very soon." Yes, you will Liam, you will.
READ: 10 Times the One Direction Boys Were Too Perfect For Our Lives
Got more suggestions? Share them with us in the comments! :)