He hearts the Philippines. Even though this ambassador for The Face Shop came from an Asian tour for the brand (Manila was his last stop), he looked fresh and radiant at the press conference the morning after his mall live show. Through an interpreter, he said he is energized by the love and warm welcome from his Pinoy fans.
He appreciates his fans' efforts. He graciously hugged his teary-eyed fan Patria Ragasa, who turned 74 on the day of the press con, and her daughter Maria Rosario Ragasa. For her mom, the younger Ragasa won the bid for his autographed sports shorts (P100,000 from a minimum bid of P10,000). The money went to The Face Shop's auction beneficiary, the Abiertas House of Friendship.
For him, personality trumps physical beauty. When Candy asked what makeup look he likes on girls, he said he prefers to focus on inner beauty.
He thinks it's time for Pinoy guys to start taking better care of their skin. He recommends all of The Face Shop products, which he religiously uses.
He loves music and acting equally. Asked which one he'd rather pursue in the future, he couldn't answer because he said it was like asking him whom he loves more: his mom or his dad?
ADVERTISEMENT - CONTINUE READING BELOW
ADVERTISEMENT - CONTINUE READING BELOW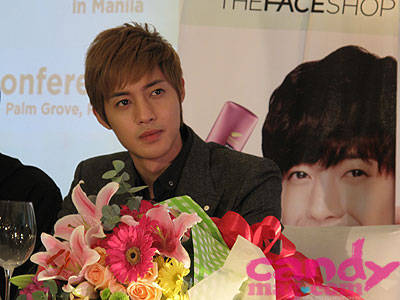 ADVERTISEMENT - CONTINUE READING BELOW