All Access
5 Taylor Swift Dance Moves At The Grammys
Y'all can learn a thing or two from that girl in the front row who's always shaking her booty.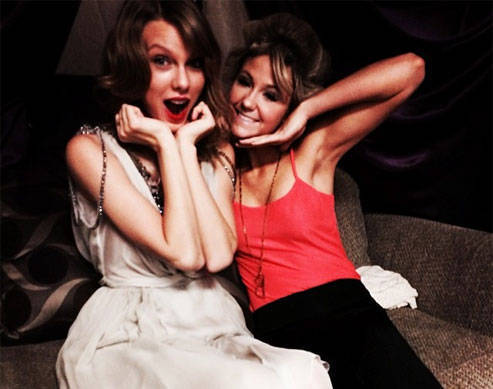 We hardly think there's a moment during this year's Grammys that Taylor Swift stayed put in her seat. And that's precisely why we think she gets front seat action to these things—girl knows how to get down on the dance floor. Sometimes it can get annoying (like, okay, we get it you know the words to the song), but we have to admit, we can get pointers for the next time we need to shake what our momma gave us. Behold, Tay's dance moves at the Grammys!

via awkwardtaylorswiftdancing.tumblr.com
The Let The Money Rain Down On Me
We especially dig the spirit fingers.

via awkwardtaylorswiftdancing.tumblr.com
Double Shoulder Roll
Bonus: Ed Sheeran probably watching Queen Bey and Jay Z in amazement. That or he's thinking, "I hope Taylor doesn't make me do that with my shoulders."

via northgang.com
Demure Girl's Booty Shake
Clearly enjoying Kendrick Lamar's performance with Imagine Dragons, Taylor lets loose and we can see some hip action that's not quite a twerk a la Miley or a booty shake like Beyonce's.

via slowdownss.tumblr.com
Hey, Come Over Here Let's Have A Dance Party
Just one arm doing the work this time, look down, and maybe stick a bit of your tongue out.

via mtv.tumblr.com
Whip My Mane Back And Forth
Of course if you've seen Taylor on tour, all this hairography doesn't really come as a surprise to you. Head banging while playing the piano? Well played, Taylor, well played.
What's your favorite Swift move? Catch the Grammys replay tonight at 9:45 pm on Star World!
\\\\\\\\\\\\\\\\\\\\\\\\\\\\\\\\\\\\\\\\\\\\\\\\\\\\\\\\\\\\\\\\\\
Get the latest updates from candy!
subscribe to our newsletter!
////////////////////////////////////////////////////////////////
From digital art to photography to mixed media, Filipino artists show that creativity is never lost in our people.
Skip a makeup step with these beauty goodies!
Take pretty notes and study effectively with these tips!
Wait for a love like this. A love that is good to you, for you.
Are you up for this challenge?
Can't wait to see the actual gowns!
The up-and-coming musicians and childhood friends talk about their music, creative process, and why it's important to be woke.
Because when it comes to a great lip game, there's really no need to splurge!