Just a week ago, the world received reports that ex-Directioner Zayn Malik and model Gigi Hadid have started seeing each other. We didn't want to believe them at first because they had not been spotted together yet. Well, until photos and a video of them out for dinner went viral online a few days ago. But seems like just a few days after their first and second sightings together, the rumored couple have taken their relationship to the next level. We're convinced that Zigi Halik (LOL, it's funny, riiight???) is actually happening. Here are the signs:
1 Gigi went out with Zayn after the American Music Awards.
You know what we love to do after a long night? Hang out with the bae and just chill. That's what Gigi did exactly after a long night at this year's AMAs where she presented the award for Favorite Album Rap/Hip-Hop with Kylie Jenner. Photo below for reference.
2 That look of love in El Maliko's eyes.
Gigi Hadid and Zayn Malik would be a HOT young power couple! https://t.co/ljvQBNPOzY pic.twitter.com/Chc1dH8WBT

— People magazine (@people) November 25, 2015
Gigi is clearly the apple of Zayn's eyes. Feeling majorly kilig for you, Gigi!
READ: SPOTTED TOGETHER: Rumored Couple Gigi Hadid and Zayn Malik
3 They held hands.
The two just took their relationship to the next level by holding each other's hands in public recently. Yasss! This could be proof that they're getting comfortable with each other, because you wouldn't hold someone's hand if they were nothing to you, right? (via Seventeen.com)
READ: All The Ladies Who Were Linked To Zayn Malik After His Breakup with Perrie Edwards
4 They're Twitter official... sort of.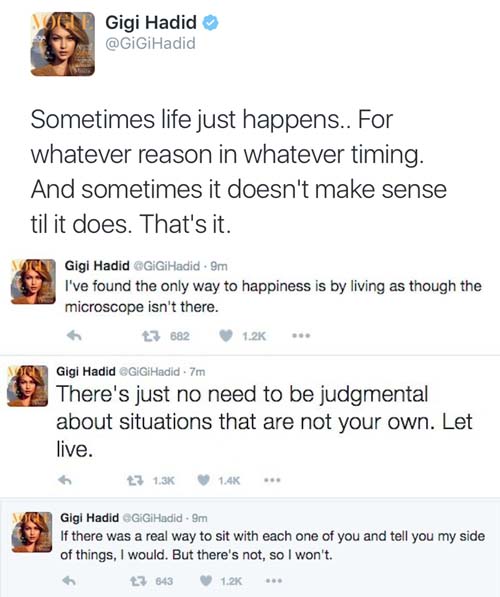 photos via Dolly.com.au
ADVERTISEMENT - CONTINUE READING BELOW
After the rumored couple were spotted holding hands, fans went to Twitter to talk about their feelings—mostly criticisms because Gigi just broke up with Joe Jonas recently. Seems like the model got tired of it all and posted a series of tweets asking everyone to chill and let them live. The tweets have been deleted already, which just somehow confirms everyone's suspicions that she's defending her relationship with Zayn.
5 Joe unfollowed them.
Another sort of confirmation? Joe unfollowed the two on social media. Well, at least he kept the Instagram photos? Guysss, vas happening? If only we can all just get along... (via TeenVogue.com)
READ: Gigi Hadid Chopped Off Her Hair at the #AMAs and We're in Lob
Are you shipping Zayn and Gigi? Let's talk in the comments! :)