If you loved the movie starring Amanda Seyfried and Meryl Streep, you'll adore the musical that inspired it. Set in a picturesque Greek island, the tale is about a young bride-to-be's search for her real father.
You'll hear ABBA classics seamlessly woven into the storyline. ABBA what? We're sure you're familiar with at least one of their hits like "Dancing Queen" (covered in Glee's prom episode), "Take A Chance on Me" (prolly one of your mom's go-to karaoke songs), and, of course, the titular track ("My, my, how can I resist you?")
You'll relate to the characters, say, the future bride, Sophie. Even if you're no blushing bride, you'll sympathize with the brash but well-meaning girl who learns so much in the course of her daddy quest.
It's the perfect family date. The musical offers something for everyone and your parents will love you for the nostalgic fun.
It's the musical tour's first time in Philippine shores. Support them enough and they might just come back!
Mamma Mia! premieres January 24, 2012 at the Main Theater of the Cultural Center of the Philippines. For tickets, log on to TicketWorld. Citibank credit cardholders get 10 percent off during the pre-selling period that runs until September 17.
ADVERTISEMENT - CONTINUE READING BELOW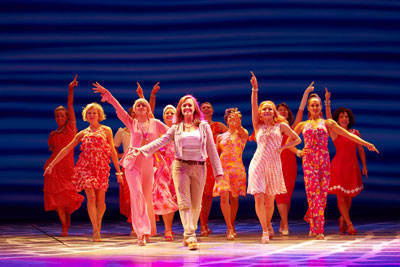 ADVERTISEMENT - CONTINUE READING BELOW