1. It's the last thing you'd expect Daniel Radcliffe to do. Since he graduated from Hogwarts, he's been going for a diverse range of roles. Coming from a string of dark movies like The Woman in Black, Kill Your Darlings, and Horns, not to mention the play Equus, Daniel surprised all of us again by starring in a rom-com about two friends who aren't strictly just friends. Although when his character, Wallace, mentioned something about going back in time, I could just picture Hermione whipping out her Time-Turner and lecturing them about the dangers of time travel. Speaking of Hogwarts, here's a little something Daniel revealed while promoting What If.
2. The cast has great chemistry. They play off each other really well and basically make the script work. An okay script can become great with the right people involved, like Daniel and co-star Zoe Kazan from Ruby Sparks. They give each other so much to work with, tossing that ball back and forth like the pros they are. Here, you can get a snippet of their cute chemistry.
ADVERTISEMENT - CONTINUE READING BELOW
But it' not just Dan and Zoe. Their onscreen BFFs Adam Driver and Mackenzie Davis, who you might recognize from more ~mature~ shows Girls and Halt and Catch Fire, sometimes steal the show with their crazy antics.
3. 'But what about the plot?' you ask. This is where it gets tricky. If you Google reviews of the movie, you'll see that critics either loved it or hated it. I liked it, and I was seriously bummed when the movie ended, although missing the first 15 minutes and getting distracted by a noisy couple might have something to do with that. But I sincerely enjoyed it. Can a guy and a girl just be friends? It's an age-old topic that can be approached in so many ways. What If doesn't bring anything revolutionary to the table, but it tackles the questions at the heart of the matter. Can a guy and a girl just be friends? What if they're clearly attracted to each other? What if the girl has a boyfriend? Does it matter if the boyfriend is being a bit of a jerk? When does friendship become emotional cheating? When is a grand declaration of love secretly a ploy to break up a couple? How is practical different from cynical? Where do you draw the line?
ADVERTISEMENT - CONTINUE READING BELOW
Harry and Hermione—or as shippers would say, the canon version of themselves—know a thing or two about being just friends and drawing the line.
4. The soundtrack is so easy, breezy cool, I'll let a sample speak for itself. (I.e., I've said way too much already.)
ADVERTISEMENT - CONTINUE READING BELOW
5. And finally, Zoe Kazan's OOTDs are totally peg-worthy. Some of the Candy Girls and I may or may not have stopped by Forever 21 after the movie to recreate her outfits. (Okay, we just looked around, but we're definitely going to do it one of these days!)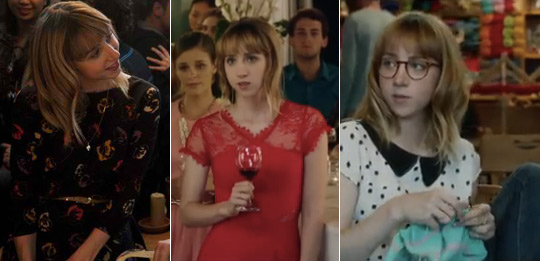 What If is now showing in cinemas.
ADVERTISEMENT - CONTINUE READING BELOW