All Access
5 Reasons Why You Should Definitely Watch Nerve
You guys, the thrill is so real in Emma Roberts and Dave Franco's new movie.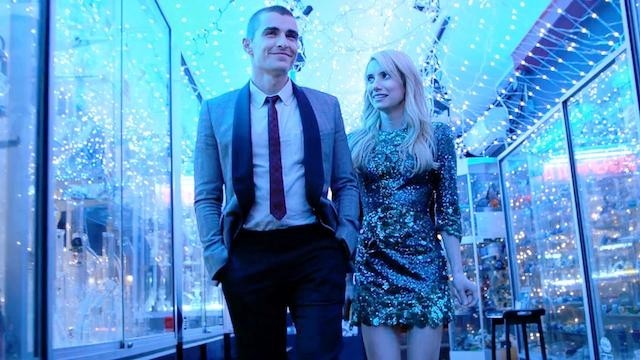 IMAGE Pioneer Films
You might see a bit of yourself in Emma Roberts's character.
We're used to seeing Emma as the evil queen bee in Scream Queens, but here she plays Vee (short for Venus), a very shy high school senior who always puts other people's needs before hers. She's the kind of daughter who would say no to her dream college because it's too far away and her mom needs her. She's the kind of friend who always supports her BFF's crazy antics. She's the kind of girl who simply cannot talk to her crush, even if she's just practicing in front of a mirror (see: "So, what's your email number?"). #itme
ADVERTISEMENT - CONTINUE READING BELOW
The thrill is real.
Given everything we know about Vee, we totally understand how she can be pressured to try the new game that everyone's talking about: Nerve, a viral dare or dare game that divides its users into "players" and "watchers." On the surface, it seems like she signs up to be a player just to show her friends that she can be fun, but deep down, a part of her is craving for some adventure, too. Still, she doesn't forget her true self: when dared to leave Bergdorf's while wearing expensive couture, she chooses to run through the store in her undies rather than shoplift!
Vee and Ian sitting in a tree...
Vee's first dare is to kiss a stranger for five seconds. Enter Ian, played by Dave Franco, who just happens to be reading Vee's favorite book. Sparks fly, and the connection is so magical that Ian, who's also a player, is able to pick the perfect tattoo for Vee mere hours after meeting her (choosing which tattoo design to commit to for life is seriously hard, you guys, and when you find someone who can understand you that well, don't ever let go). With the watchers shipping them, Ian convinces Vee to team up with him a.k.a. go on the most exciting first date ever. Teehee!
ADVERTISEMENT - CONTINUE READING BELOW
The music is perfection.
We liked it so we made a playlist—or at least tried our best to recreate the OST.
This could be the (scary) future.
Nerve starts out innocently enough, but of course there's a very dark side to this game that offers augmented reality, easy money, and instant fame. Players earn more money and get more followers with every dare they complete. Watchers pay to see their favorite players in action and sometimes get to weigh in on what their next dare should be. Kissing a stranger is scary enough—what more pressing your body flat against the railroad as an actual train sped by mere centimeters from your head (!!!). It's undeniably exciting and fun and new, and it's not far-fetched to say that some version of Nerve could be the viral game of the distant future. Let's just hope that our future selves know better and choose good clean fun!
ADVERTISEMENT - CONTINUE READING BELOW
Have you seen Nerve? What was your favorite part? Tell us in the comments section below!
Featuring Brown, Choco, and Cony!
Coffee is life, pero minsan, kailangan talagang mag tipid-tpid 'pag may time.
Aside from electricity and water, here are some essential subscription services you can divide among you and your dormmates.
#TalaNation on a different level!
Showing vulnerability doesn't make you less independent.
I was young, supposedly halfway through my first college degree, working several side hustles to pay the bills with zero savings.
You don't have to splurge a lot on an expensive model for its high-quality camera to get started with vlogging.
Straight from Lana Condor and Noah Centineo, no biggie!
Just like in your darkest times, your college friends were there with you during the best days of your life.
Pasig City government aims to allow more scholars to have free tuition and higher incentives.