When the lovely Jennifer Lawrence tripped at the Oscars red carpet two days ago, not everyone was amused. She tripped once, while she was on her way to the stage to claim her Best Supporting Actress Award last year. Now she tripped again when she stepped on an orange cone.
But hear us out, please. We really think she didn't fake that fall on the red carpet, and here are the reasons why:
1. She's famished. You will surely get dizzy when you haven't eaten for hours to perfectly fit in a size 2 dress.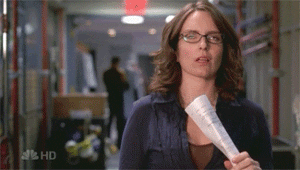 via Giphy.com
ADVERTISEMENT - CONTINUE READING BELOW
Not convinced? Just look at how she attacked that helpless slice of pizza.
via 1directionspotlight.tumblr.com
2. She's exhausted. We can't imagine the long process these actresses have to go through to look picture perfect. Even Best Actress Cate Blanchett can't keep up.
via scrapbook.ellentv.com
ADVERTISEMENT - CONTINUE READING BELOW
3. She's really not good in walking with high heels. Even runway models fail at it.
4. The flash from the cameras made her vision blurry, so she didn't really see where she was going.
ADVERTISEMENT - CONTINUE READING BELOW
via sonyakhloe.tumblr.com
5. Her dress was too big that it blocked her view. Remember when you went to prom and wore that ball gown with those stilletos? Difficult to see where you're walking, right?
via world-according-to-lucy.tumblr.com
ADVERTISEMENT - CONTINUE READING BELOW
What do you think, Candy Girls? Were her falls staged? Sound off in the comments or tweet us @candymagdotcom to join the conversation!