via hopperthedragon.tumblr.com
"Oh, I love it. It's so cute. It's like a little baby unicorn," Olaf the summer-loving snowman describes his new carrot nose. The same can be said for Frozen, Disney's new fairytale about two sisters torn apart by the ate's uncontrollable power. Its old school charm coupled with truly magical effects make it as precious as Olaf's little baby unicorn. It's the kind of holiday movie that deserves a yearly viewing, right up there with all-time favorites like Love Actually and The Holiday.
via frosty-viking.tumblr.com
ADVERTISEMENT - CONTINUE READING BELOW
It's not a typical Disney story. Sure there's a Prince Charming or two, but the focus is on sisters Anna (Kristen Bell) and Elsa (Idina Menzel). As always, an act of true love will save the day, but you'll be pleasantly surprised to find out what it is.
via egipciaca.tumblr.com
You'll root for the villain. The trend of lovable villains is not lost in the Disney universe. Elsa is simply a misunderstood girl who was raised to hide her "dark magic."
via elsaofarendelle.tumblr.com
Everyone's a little bit cray. Elsa is terrified by her own powers. Anna is stubborn, impulsive, and hungry for attention. Kristoff the loner ice man (Jonathan Groff) is a bit too attached to his reindeer. Olaf (Josh Gad) is a snowman who wants to sunbathe and enjoy cocktails in the summer. No one's perfect and it's much more interesting that way.
The songs stay with you. "Do you want to build a snowmaaan?" So simple but add some kiddie voices and a montage of closed doors, and I'm sniffling five minutes into the movie. But that's actually just the tip of the iceberg (harhar). Anna's "For the First Time in Forever" will have you humming in the shower; "Fixer Upper" is a troll-ific love song; and Olaf's "In Summer" is equal parts funny and dark.
ADVERTISEMENT - CONTINUE READING BELOW
There are lots of Easter eggs in the movie. Well, only if you didn't know who the cast was before going in. Who knew Kristen Bell's voice was as clear as a bell? (Sorry, not sorry.) Did you know that this was Idina Menzel's second princess gig? (She was the human who became an animated princess in Enchanted.) Why didn't Jonathan Groff have more songs? I mean, it's Jesse St. James! Also, Josh Gad was born to play Olaf.
But for the real Easter egg, can you guess who dropped by Elsa's coronation?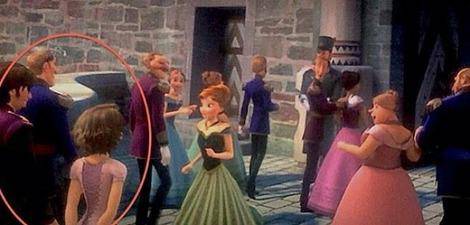 Photo from Yahoo! UK & Ireland
Yep, that's Rapunzel and Eugene from Tangled! So cool.
Frozen is now showing in cinemas.