All Access
5 Quotes from Rogue One That Will Give You Hope for 2017
May the Force be with us this coming year.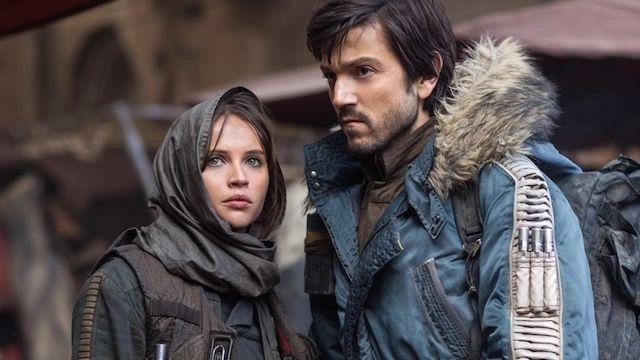 IMAGE Walt Disney
No matter what your age, gender, location, religion, or political affiliation is, we think it's safe to say that 2016 was a pretty rough one for humankind. But as one Doctor said, "The way I see it, every life is a pile of good things and bad things. The good things don't always soften the bad things, but vice versa, the bad things don't necessarily spoil the good things and make them unimportant." And so we give thanks and celebrate the good things.
Moving on from one geeky galaxy to another, this week the Force was strong with us as Rogue One: A Star Wars Story exceeded all expectations and shot straight to the top (or top three) of most fans. Within two hours, it managed to make us care deeply for a new group of rebels, introduce fresh role models to this generation, expand the already-wide universe of Star Wars, squeeze in a few cameos, and seamlessly connect the past to the present to the future. This year has been cruel to the heart, but still, for Rogue One alone, what a time to be alive.
So as we say goodbye to 2016, here are a few quotes from Jyn and her fellow rebels to give you hope for the new year.
"Rebellions are built on hope." —Jyn
"I'm one with the Force, and The Force is with me." —Chirrut
"Make 10 men feel like a hundred." —Cassian
"Trust the Force." —Lyra
"If the Empire has this kind of power, what chance do we have? The question is, what choice? Run, hide, plead for mercy, scatter your forces. You give way to an enemy this evil with this much power and you condemn the galaxy to an eternity of submission. The time to fight is now." —Jyn
Have you seen Rogue One already? What were your favorite parts of the movie?
\\\\\\\\\\\\\\\\\\\\\\\\\\\\\\\\\\\\\\\\\\\\\\\\\\\\\\\\\\\\\\\\\\
Get the latest updates from candy!
subscribe to our newsletter!
////////////////////////////////////////////////////////////////
From digital art to photography to mixed media, Filipino artists show that creativity is never lost in our people.
Skip a makeup step with these beauty goodies!
Take pretty notes and study effectively with these tips!
Wait for a love like this. A love that is good to you, for you.
Are you up for this challenge?
Can't wait to see the actual gowns!
The up-and-coming musicians and childhood friends talk about their music, creative process, and why it's important to be woke.
Because when it comes to a great lip game, there's really no need to splurge!