What were you expecting when you saw The Hunger Games: Mockingjay Part 1 last weekend? Personally, I wasn't expecting much since Mockingjay is my least favorite of the trilogy and it didn't help that the movie folks split it into two. But you know what? The movie wasn't dragging and I didn't feel cheated at all. They expanded the world of Panem, showing scenes that were implied or briefly mentioned in the book, or were not in any of the books. Sure, it felt like a stepping stone to the climax, but it was filled with so many nail-biting and blood-pumping moments that the two hours just flew by. Here are a few of those moments (spoiler alert!):
When Katniss visits a hospital filled with the sick, the dying, and the dead for her first propos, and the Capitol bombs the place for associating with the Mockingjay. Amidst the rubble and flames, she cries, "If we burn, you burn with us!" She unknowingly gives birth to a war cry that rebels in the lumber district echo as they pull off an ingenious attack against their captors.

ADVERTISEMENT - CONTINUE READING BELOW

When Katniss sings "The Hanging Tree," a forbidden song that immediately gains traction among rebels in different districts, much like how Mockingjays carry music throughout the forest. The lines "Are you, are you coming to the tree / Wear a necklace of rope, side by side with me" paired with images of rebels ready to give up their lives? C h i l l s.

via seaofshadows.tumblr.com

ADVERTISEMENT - CONTINUE READING BELOW

While Katniss entertains a small crowd with a flashlight and a frustrated Buttercup, she realizes that President Snow is pitting her and Peeta against each other. Still, she can't help but play his game as the war intensifies.

via heavunsbee.tumblr.com

ADVERTISEMENT - CONTINUE READING BELOW

When Gale says he knew Katniss would kiss him and pay attention to him because he was in pain. "Don't worry, it'll pass." And that is the sound of a sinking ship. </3

When Gale and the other volunteers rescue Peeta, Annie, and Johanna. It's incredible how the darkness and quiet and dread led to a burst of blinding white light and a blindsiding attack from President Snow. (All the awards to Josh Hutcherson!)

ADVERTISEMENT - CONTINUE READING BELOW
Bonus: Any moment that Philip Seymour Hoffman was onscreen, his character quietly moving the chess pieces and allowing himself a tiny, hidden smile with every checkmate. What a tragic loss. RIP, PSH.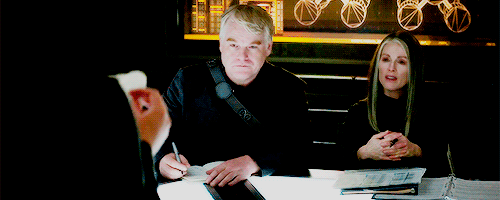 via gifthg.tumblr.com
ADVERTISEMENT - CONTINUE READING BELOW
The Hunger Games: Mockingjay Part 1 is now in cinemas.