1. Love means accepting each other's quirks. The Mother's boyfriend, her first true love who died before she met Ted, got her the best birthday gifts: an exact replica of the bike in Pee-wee's Big Adventure, a one-man band suit (including knee cymbals!), and finally, a ukulele...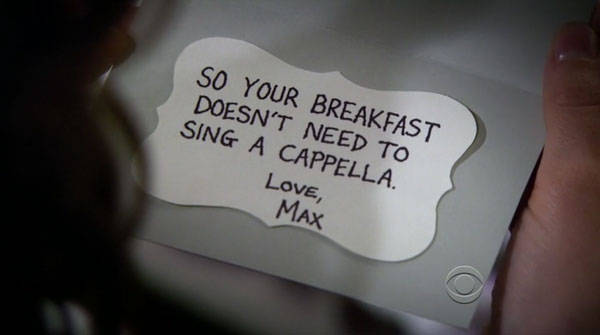 Ted embraced the Mother's quirks just as much: her bass guitar, yellow umbrella, robot paintings—even when they hadn't officially met yet.
2. Love means getting each other's jokes.
"I don't want to see anyone eating lobster because that would be SHELLFISH," Ted told his students on his first day teaching. Such a daddy joke, but the Mother ate it up.
via piercinald.co.vu
ADVERTISEMENT - CONTINUE READING BELOW
3. Love means trying your darn best. Without knowing it, the Mother helped Ted's friends get it together. The best one so far was when she turned down Barney and got it through his thick head that the only way he'll "win" the love of his life is by giving everything he has.
4. Love means letting go.
The Mother stopped dating after her boyfriend died, which was perfectly understandable. With time, she learned to let him go. That scene where she asks for permission to move on is pure heart.

via piercinald.co.vu
5. Love means holding on to the firsts and the encores. If you didn't like the Mother yet, I'm sure you fell for her the moment she sang "La Vie en Rose" on the balcony of her hotel room, a measly panel away from Ted. He would hear her sing the song over and over again through the years, when she would tuck in their kids for instance. "But that performance, that first night I ever heard her sing, that one will always be my favorite."
The last season (ever!) of How I Met Your Mother airs Thursdays at 8:30 pm on 2nd Avenue.