All Access
5 Life Lessons From Love, Rosie
What we realized while watching the first rom-com of the year starring Lily Collins and Sam Claflin.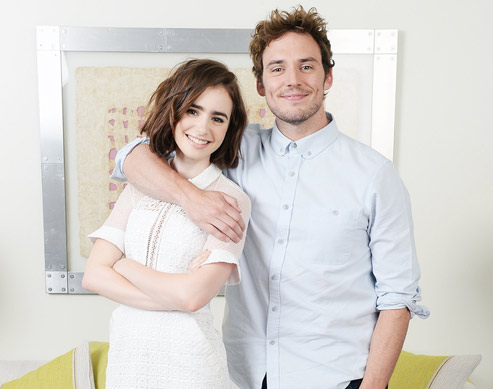 PHOTO Pioneer Films
Stop and appreciate the now. "Sometimes you don't see that the best thing that's ever happened to you is right under your nose," Rosie says. Rosie and Alex have been best friends since they were kids, and the familiarity has caused them to take each other for granted, even when the truth is that they "always, truly, completely" love each other.

Sometimes it's not all in your head. Rosie and Alex's almost kisses are some of the best and most frustrating parts of the movie. Had they just stopped overthinking and took a leap of faith, everything would've turned out so different. You know that "now kiss!" GIF? Basically us the entire time.

CONTINUE READING BELOW

Recommended Videos

via ricordidisogninfranti.tumblr.com

ADVERTISEMENT - CONTINUE READING BELOW

There will always be missed connections and opportunities, but you can't let that stop you. Their story spans years of meaningful glances, intercepted messages, and passive-aggressive conversations. You can take ill-timed things as signs that it's just not meant to be, or you can take control and create your own serendipity.


via ricordidisogninfranti.tumblr.com

ADVERTISEMENT - CONTINUE READING BELOW

Awful as schadenfreude (taking pleasure in someone else's troubles) sounds, it can be pretty therapeutic. Rosie completely mucks up her life (her words) that even her best friend says straight to her face, "It's so great having you as a friend. Every time something goes wrong in my life, all I have to do is look at yours and it puts everything into perspective." So wrong yet so right!


via dailylilycollins.tumblr.com

ADVERTISEMENT - CONTINUE READING BELOW

The English way is the only way to fight. Lily Collins (hilarious and Audrey Hepburn-esque) and Sam Claflin (steady and swoon-worthy) were perfectly cast as Rosie and Alex. One of our favorite scenes is when they have it out on the street, screaming things like "terrific!" and "excellent!" when they mean the exact opposite. (Definitely better than keeping it all in, like Alex's uptight fiancé, and suddenly exploding: "Why can't you just say fudge?!")

ADVERTISEMENT - CONTINUE READING BELOW
Love, Rosie is now showing in cinemas.
They take their jobs as YouTubers very seriously.
In this week's #CaughtOnCandy, we're putting the spotlight on this TikTok star.
This sandal is the perfect combination of comfort and style.
She also works with big brands like Lazada and SM.
Ever wondered what kind of relationship advice you'd get from Nadine if she was your friend?
Landfall likely Sunday to Monday.
They used to train together in South Korea.
Meet May Myat Noe, the model who caught the envy of PSJ fangirls.
Here's what to watch on Netflix while we patiently wait for "Crazy Rich Asians 2."
In case you can't help but admire the clean and customizable aesthetic of iOS 14.
From The Candy Bulletin Community