"Back in college..." This is something you'll probably hear a lot at all the family gatherings you'll be going to this Holy Week. People have a tendency to look back on their college years with rose-tinted specs, focusing on the good times with friends and boy/girlfriends, and romanticizing the all-nighters and hell weeks they went through. It has something to do with the time element of college: You only have a certain number of years to spend in the glorious limbo right before the adult world, and that makes every moment that much more precious. This feeling is something that the best college movies capture, and like in the four walls of a classroom, there's a lot to be learned from these art forms imitating life.  
There's a time and place to say goodbye

.
As much as Carson wanted to stay in the friends-but-maybe-possibly-hopefully-more-than-friends zone with college buddy Dio in I'm Drunk, I Love You, reality eventually caught up with her. While she wished for five more minutes with Dio, just five more minutes, she finally came to terms with her feelings during an impromptu trip to La Union with him right before graduation.
ADVERTISEMENT - CONTINUE READING BELOW
Relationships evolve all the time

.
While puppy love was all the rage in high school, it's in college that you get your first dose of a somewhat adult relationship. This is when your hopes and dreams affect the course of a relationship. This is when conflicting desires come in. This is when lines get blurry, as shown in the movie Ang Kwento Nating Dalawa, especially in the plot twist revealed right before the credits roll.
There will always be new ways to communicate, but the whys will remain constant

.
In Vince & Kath & James, Vince is the wingman to James on his quest to win Kath's heart with sweet text messages—thing is, Vince is also falling for her. Take a second to think about how this could've totally happened in previous generations, but instead of text messages, they'd send handwritten letters or telegrams (not the app).
You will find your people in the most unlikely places

.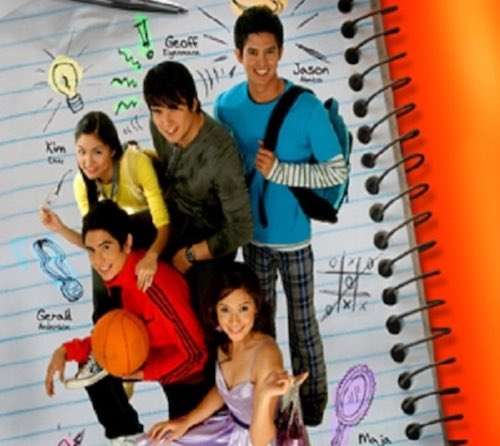 Though no longer as binding as before, cliques still exist in college (and beyond). But the good news is that you don't have to stick to one squad. College classes and extra curriculars give you more opportunities to hang out with different types of people, creating a wonderful rainbow of personalities like in the throwback film First Day High.
Music will weave your memories together

.
There are moments when it seems like there's an invisible, all-knowing force scoring your life, and college is one of the phases when it'll feel most potent (see: Sugarfree's "Burnout" in I'm Drunk, I Love You). You can thank all those school fairs, nights spent catching gigs, and downtime swapping songs. Years from now, you won't remember what you studied all semester for Sociology 147, but you will remember that time you swayed to a Sugarfree song with your college love the night you broke up. (Sorry.)
ADVERTISEMENT - CONTINUE READING BELOW
What are your favorite college movies? Share your thoughts in the comment section below!