All Access
5 Kick-Ass Moments from The Flash-Arrow Crossover
When worlds collide, awesome happens. (Spoiler alert!)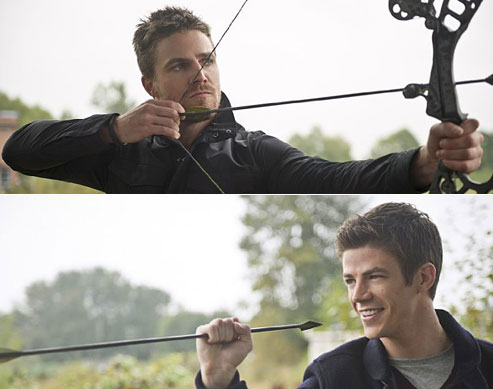 PHOTOS The CW
You can tell that the team behind The Flash-Arrow crossover had a lot of fun making the double feature: there was twice the action (The Flash vs. Arrow!), twice the humor (Cisco and, surprisingly, Diggle), and twice the feels (Oliver should visit Central City more often). With so many cool moments, it was tough to narrow it down for this list!
Oliver's Hero 101 class. Barry may have super speed, but Oliver has spent years training and strategizing to defeat his enemies. He teaches Barry his ways upon the eager puppy's (doesn't Barry just remind you of one?) request. Overly dependent on his powers, Barry ends up getting shot in the back. Good thing he heals quickly! (Who's willing to bet that Oliver would've sent more arrows flying had he known about Barry and Felicity's kiss?)

[table:0]

The big fight. Oliver may have won the first round (if we can call it that), but Barry, fueled by unnatural rage courtesy of the villain of the week, beats the crap out of Oliver. Oliver's quick thinking and the super crew's teamwork help Barry rein it in and prevent him from doing even more things he'll regret. After things settle down, Barry and Oliver go for another round just for the heck of it, but the episode ends just as things start to get interesting.

[table:1]

Mutual fanboying. The two main bros aren't just the great parts of the crossover. Cisco was in heaven in Starling City, representing the fandom as he asked important questions about the "Arrow Cave" and the "Arrow Mobile." In the middle of all the angst and the city-saving, it's nice to see that someone still recognizes just how thrilling it is to be a (super)hero. Even Diggle was dumbfounded seeing The Flash in action. (Though Diggle being Diggle, he wonders how soon Barry needs to use the restroom after eating. TMI but valid question!)


Rude awakening. Awesome it may be to be part of a super crew, all the blood you spill and the lives you hold in your hands is quite frankly, depressing and very dangerous. Team Flash realizes this when they visit the gritty, unforgiving Starling City. There's a quiet moment when Cisco says maybe the metahuman aspect of Barry's villains, who they give cute nicknames, make it "less real." And that's what's great about this crossover: Team Flash brings humor and light to Starling City, while Team Arrow grounds and strengthens them. Teamwork!


[table:2]

Feelsy!Oliver. Have you ever seen Oliver show so much emotion in front of anyone except Felicity? There are two particular lines that deserve all the awards. To Barry: "Well I'm sorry I'm not as emotionally stable as you are." So sassy! Here's the second one:
P.S. Don't the crossover credits deserve all the awards too?
ADVERTISEMENT - CONTINUE READING BELOW
From consistently badmouthing another friend behind their backs to making snide comments sneakily disguised as compliments, here's how to deal with a tricky friendship.
From sisig to bulalo, the North has a lot to offer.
Even college students like us can apply for freelance creative jobs while we're still going for that diploma!
These simple practices, when done consistently, end up being worth a lot.
It can actually *shatter* your cartilage.
Bordeos becomes meat of online talk while helping out in family's meat business.
From her gowns down to the décor and food!
Trish is part of Candy Rookies 2020, a group of influential and aspirational college students handpicked to represent #GenerationCandy in the year to come.
The more ~chill~ spots around UST might be more of your scene.
Bea is part of Candy Rookies 2020, a group of influential and aspirational college students handpicked to represent #GenerationCandy in the year to come.
This list compiles the city's tried-and tested music recording studios you'll want to check out.
Students from Humanities courses speak up.