All Access
5 in 5: Patricia Prieto
The Candy Style Star spills all about her style icons, her 5-year plan, and the star she wants to play herself if her life were made into a movie.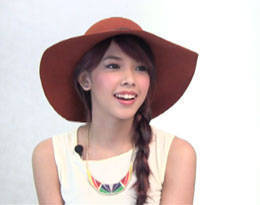 Where can we find you when you're not working? "Most of the time I'll be at home or at the mall. Recently, I've been going to the beach a lot so you can find me there too. Because when I'm working, it's stressful and it's something that gets me really tired easily. So I like to do things that will help me relax and get my mind off certain things."
What's your no-fail happy thought? "Just the fact that I know there's so many things going for me. I just keep telling myself that so that I don't feel bad. Or if I don't get certain things, I'll tell myself, you know what it's not like you're never going to get that opportunity again or it's not like you're never ever be able to be given the chance to do such a thing. I just keep telling myself, don't worry something bigger and better will just come your way. That's something I always remind myself."
Which celebrities do you find inspiring? "The Olsen twins. I think if I see them at the mall, I'll run after them. I've been a fan of theirs since I was younger. Kaya Scodelario of Skins UK. When I started watching Skins back in 2007 when it started, I already told myself, oh my gosh she's really cool. I look up to her style-wise and career-wise, she's done a lot for herself at such a young age. And last, Kate Middleton. I think it would be cool to see somebody like her because I also look up to her. She's such a style icon nowadays and at the same time she does good deeds. And that's something I want to do and I try to do that in my own little way."
Which actress would you want to play you if your life would be made into a movie? "Maybe Kaya Scodelario. I love how she acts. It seems so real. Like when I watch her on Skins or when you see her being interviewed, it's just so real that you want to tell yourself, 'I want to be just like that if I were an actress.' So I'd love for her to play me if ever my life would be made into a movie.
Where do you see yourself five years from now? "Probably I'll be a designer by then since I'm starting. I've been getting a lot of inquiries to do prom dresses. And I've been taking the opportunity to do that. So hopefully either a designer or a bigger stylist. I style Julia Montes now so hopefully I'll be able to style more celebrities or be able to style more than I already do. And maybe be a known blogger all around the world. You know The Blonde Salad or Rumi Neely, those people, I want to be on that level. Hopefully in five years, or earlier, I'll be one of them."
Time: 3:56
Catch Patricia Prieto and the rest of the Candy Style Stars at the first Candy Style Awards on May 4, 5pm at the Rockwell Tent!
A lot of them are apps we haven't heard of before.
We're sure you've seen portraits on your feed.
Some good news to start your day off!
It includes Lee Min-ho's TV comeback!
Meanwhile, the number of confirmed cases in the Philippines is at 2,633.
It's okay to admit if you're having a hard time doing the one thing you thought you were good at.
All the outfits and props were just things found around their house!
"You wish to know where my true loyalties lie? Not with any king or queen, but with the people."
Kayang-kaya niyo 'to gawin at home.
And it's all thanks to low air and light pollution.
It's part of a dashboard that helps you monitor all the confirmed cases in the country.
With a load of cute behind-the-scenes footage, too!