All Access
5 in 5: Jasmine Curtis-Smith
Our June cover girl sits down with candymag.com for a short interview. Find out what we talked about in this video.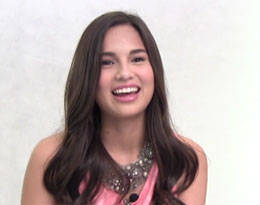 What can we look forward to on your new show with David Archuleta?* "A lot. First of all, everyone's looking forward to seeing David Archuleta on a Filipino show. And also, how well we can work off each other's vibe and work well together in scenes. If ever we become friends, well I'm looking forward to that if it's possible."
If you could take David anywhere in the Philippines, where would you go and why? "I would take David Archuleta to somewhere I've never been before. I've heard so much about Palawan and I've seen so many pictures about all the different beaches and places where you can stay. I'd really love to visit there and at the same time, take him with me and show him around if possible."
What's the best Valentine's gift you've received? "Well, last year was a surprise gift because... I was back in Australia already and I wasn't expecting anything. My mom being the sweet mom that she is, she gave me a little book. But at the same day, I came home from school and there was a delivery of flowers from Anonymous. Like they actually didn't put their name on the card and it was all the way from the Philippines! I was so touched and kilig. I didn't know how to respond. I didn't know who it came from. I even tweeted it, I put it on Facebook and on Tumblr. Then finally at the end of the day, they told me who they were.
What's the sweetest compliment you've ever received? "I was talking to my friend about something that was bothering me, something I couldn't let go of. Then he said, 'You know what, Jas, you're worth more than this. You're worth more than you think. And I need you to realize it because if I didn't have a girlfriend right now, I'd go for you.' It made me blush and kilig. It made me really happy. It was something I've been waiting to hear from someone I really cared about."
Name three celebs you fangirl over. Locally, it would have to be Jericho Rosales, Lea Salonga, and my sister. I'm still very much a fangirl of my sister. Even though I live with her, when I see her face everywhere when I'm driving, I can't believe she's my sister! It's crazy. International-wise, it would have to be Emma Watson, Rafael Nadal, and Dakota Fanning.
Time: 3:54
ADVERTISEMENT - CONTINUE READING BELOW
CONTINUE READING BELOW
Recommended Videos
* We shot this early this year and Jasmine's show on TV5 with David has already aired.
They were once Green Archers.
South Korea's revised law will give pop culture artists a chance to delay their military service.
According to a new study.
"I love that I am trans. And I love that I am queer."
It's not just about your face shape!
"If I don't want to be taken a video of, I don't have to be."
From award-winning actors to top musicians.
Plus other things to know about the video game streamer.
Have you been dreaming of this trendy hair color?
Did you know he starred in a couple of music videos?
From The Candy Bulletin Community