It's safe to say we're kind of obsessed with The Fault In Our Stars. We thought the book was fantastic—made us laugh, cry, fall in love all at the same time. When we heard Shailene Woodley and Ansel Elgort were going to play Hazel and Augustus, we could hardly contain our excitement. We ♥ Shailene and Ansel, what a cutie, right? We've been stalking John Green, the cast, and anyone else remotely related to the upcoming movie to get our dose of TFIOS online. So you can only imagine all our *~feels~* when the movie poster finally came out. Cue tears.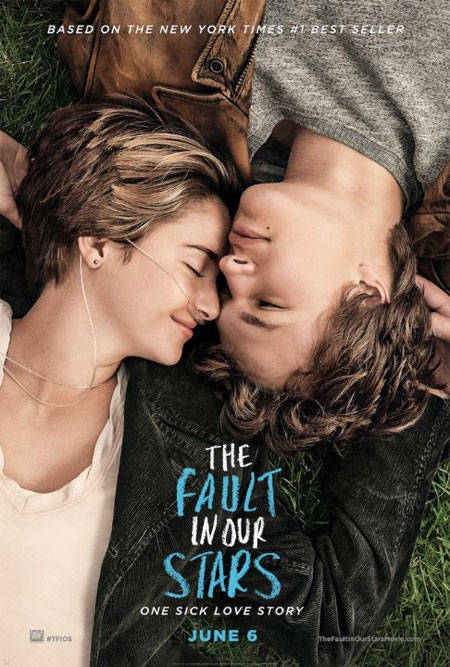 First reaction: excitement. OMGOMGOMG It's reaaaal.

via funnystuffrightthere.tumblr.com
ADVERTISEMENT - CONTINUE READING BELOW
And then we looked at the details. Hazel's closed eyes and happy smile, Augustus looking at her with so much love. Siiigh.

via dinahknowswhatswhat.tumblr.com
We love that they're just chilling on the grass, as opposed to, oh we don't know, doing some staged cheesy pose in some random studio. Because it feels like we're spying on one of their dates. Hee hee.

via dreamingtaylor.tumblr.com
Though there have been some negative feedback regarding the tag line, we actually really dig it. A sick love story. It just fits! And it's something Hazel would have probably come up with herself. We love what John Green said about it, "I like the tag line because it says, literally, the sick can also have love stories. Love and joy and romance are not just things reserved for the well." We totes agree!

via n-y-b-a-r-b-i-e.tumblr.com
And then we're just back where we started. We already foresee a lot of ugly crying when the trailer finally comes out. Huhuhu! </3 Somebody hold us.

via andreeamituu.tumblr.com
ADVERTISEMENT - CONTINUE READING BELOW
Can you imagine what a mess we'll be come opening night?