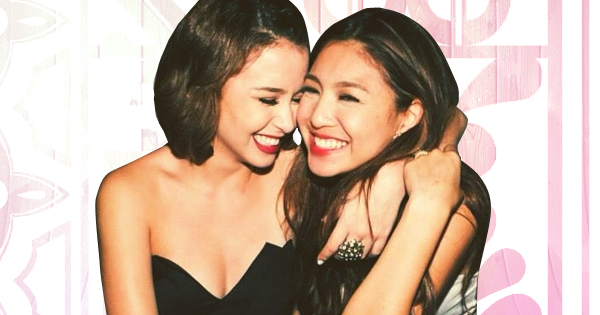 Remember the celebrity squads we want to be a members of? This time, we listed down five celebrity best friendships we can't help but admire and wish we could also be part of. These young ladies have proven that busy schedules don't really matter as long as both of you are willing to exert effort to make your sisterhood work.
1 Nadine Lustre and Yassi Pressman
Nadine and Yassi first met during the production of the blockbuster movie Diary ng Panget last year. They got to work together again for another movie, Talk Back and You're Dead later that year. The star of On the Wings of Love revealed that she gave Yassi some advice on dealing with her heartbreak back then from her ex Sef Cadayona because that's what real friends do, right?
2 Taylor Swift and Selena Gomez
Selena and Taylor have been BFFs for as long as we could remember. They've been each other's constants during awards shows, and at the American Music Awards 2014 where Sel performed her song "The Heart Wants What It Wants"—rumored to be about her ex Justin Bieber—live for the very first time, T-Swizzle was in the audience supporting her along. Through ups and downs, these two have stayed with each other.
ADVERTISEMENT - CONTINUE READING BELOW
ADVERTISEMENT - CONTINUE READING BELOW
READ: 7 YA Novels That Will Teach You the Value of Friendship
3 Kathryn Bernardo and Arisse de Santos
Arisse and Kathryn first met in 2012 and have kept in touch ever since. Now you can see them together during their down time, having fun with their friends. The very busy teen queen and Pangako Sa 'Yo star even threw Arisse a birthday bash along with the rest of their barkada.
READ: The 10 Things Only Your Best Friend Can Say To Your Face
4 Cara Delevingne and Kendall Jenner
We first saw just how #BestFriendGoals-worthy these two are together during the British Fashion Awards when they bumped into Harry Styles, who were both rumored to have dated him in the past, while holding hands and just having a great time with each other. From then on, they've been chillin' and having fun together on or off the runway.
5 Bella Thorne and Zendaya
Since their days as Cece and Rocky on Shake It Up, these two Disney stars have been close friends. But did you know that Bella and Z didn't really get along that well during their early days together? In an interview for The Duff, Bella revealed that it got a little awkward for them at first as they were put up against each other. Eventually, they had a heart-to-heart talk and things got great after that.
ADVERTISEMENT - CONTINUE READING BELOW
Which celebrity best friendship would you want to be part of? Let us know in the comments! :)