5 Luke (Zachary Levi) discovers he has powers on Heroes Reborn.
Before the show premiered, Zachary Levi (of Chuck!) kept mentioning in interviews that his character is unlike any other he's played, and now we finally see what he means. Luke and his wife hunt down evos (evolved humans) so for him to find out he's an evo too is the ultimate game changer for him. We don't know exactly what his powers are, but we do know things will never be the same again for him and his partner in crime.
ADVERTISEMENT - CONTINUE READING BELOW
ADVERTISEMENT - CONTINUE READING BELOW
4 Matty (Beau Mirchoff) and Jake (Brett Davern) make up on Awkward.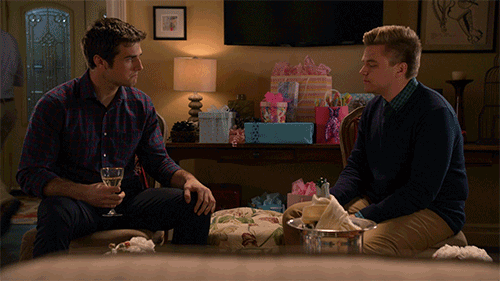 via mtvawkward.tumblr.com
It's interesting for us to see how these bros stutter about their feelings ("Bro, I know. It's chill.") and cement their restored friendship with a shaky fist bump. So sweet!
3 Chanel (Emma Roberts) gives Hester (Lea Michele) a makeover on Scream Queens.
ADVERTISEMENT - CONTINUE READING BELOW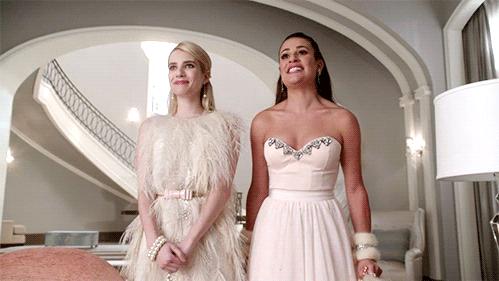 via screamqueensfox.tumblr.com
The newly minted Chanel #6 couldn't be happier with the makeover courtesy of her "mommy," even though her "muscles have atrophied and the pain of not wearing (her) brace has (her) on the verge of passing out." Sounds horrible but at least previews show that she'll soon be wearing a bedazzled neck brace!
ADVERTISEMENT - CONTINUE READING BELOW
2 Boyle (Joe Lo Truglio) knocks some sense into Jake (Andy Samberg) on Brooklyn Nine-Nine.
ADVERTISEMENT - CONTINUE READING BELOW
The captain of Jake and Amy's ship outdoes himself with advice like "Light and breezy is how you describe a linen pantsuit—not a relationship you care about!" and "You guys started this with one foot out the door. That's what doomed you, not the universe!" Boyle for president!
1 Clark (James Reid) and Leah (Nadine Lustre) finally admit their feelings for each other on On the Wings of Love.
We cannot—CANNOT—pick our favorite among all the kilig moments last Friday. Was it when their eyes spoke volumes while they swayed to the music played by a street violinist? Was it when Leah daydreamed about Clark and their future kid? Was it when Leah walked down the aisle toward the love of her life (and ours!)? Answer: all of the above!
What was your favorite TV moment this past week? What shows are you watching now? Leave a comment below and let's dish about all things on the small screen!
ADVERTISEMENT - CONTINUE READING BELOW