So you think it's easy being an actor? Wait until you read about the things these movie stars had to go through to be perfect for their roles. From hours and hours of make overs to getting piercings, these celebs have done a lot to prove they are worthy for their spot in the movie.
1. Jennifer Lawrence as Mystique for X-Men: First Class and X-Men: Days of Future Past. For her role as the blue mutant, Jen had to endure 7 hours of almost being naked on set while she was being airbrushed with the color blue. She also had to lose a few pounds for the role, so she can look fit and toned for the cameras.
2. Nicholas Hoult as Beast for X-Men: First Class and X-Men: Days of Future Past. It was the same for Jen's co-star Nicholas. He also had to go through the same painful transformation for his character. A head dress was placed on him before the makeup process begins to make another blue mutant out of him.
ADVERTISEMENT - CONTINUE READING BELOW
3. Anne Hathaway as Fantine for Les Miserables. Anne hasn't really spoken about the specifics of her Fantine diet, the diet she had to go through to portray the poverty-stricken prostitute in the movie. To lose 25 pounds for the character, the star had to only eat 2 thin squares of dried oatmeal paste every day according to reports!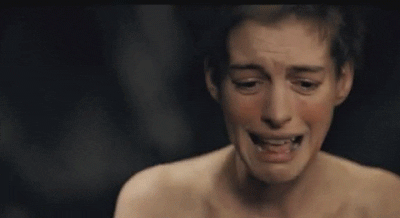 via giphy.com
4. Elizabeth Banks as Effie Trinket for The Hunger Games and The Hunger Games: Catching Fire. To play the bubbly and over-the-top publicist of Katniss and Peeta, Elizabeth had to go through several hours of hair and makeup make overs. But it's all worth it, don't you think, because she's now the face of Capitol Couture, the fashion and style of the Capitol.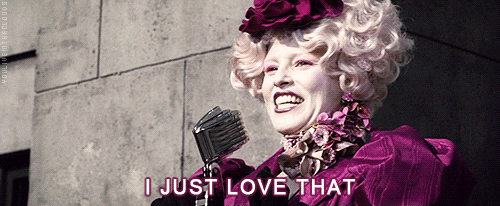 via giphy.com
ADVERTISEMENT - CONTINUE READING BELOW
5. Rooney Mara as Lisbeth Salander for The Girl With The Dragon Tattoo. Most of you probably remember Rooney as the quick-witted and sweet ex-girlfriend of Jesse Eisenberg's Mark Zuckerberg in The Social Network. Yup, that's her. Rooney completely transformed herself for this movie by losing weight, cutting her hair, bleaching her eyebrows, getting piercings, and learning how to smoke. Phew!
via giphy.com
ADVERTISEMENT - CONTINUE READING BELOW
Know more celebrity transformations for a role? Tell us in the comments or tweet us @candymagdotcom!