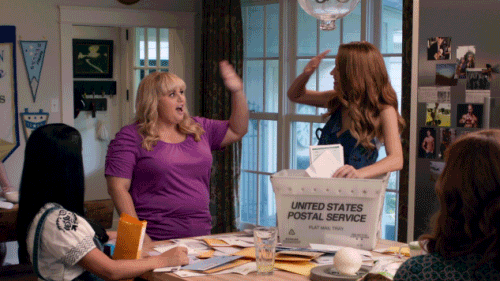 via www.pitchperfectmovie.com
Remember when Pitch Perfect was this little secret that people passed around until everyone was attempting to do Anna Kendrick's "Cups"? The musical comedy was the little film that could and it was no surprise when a sequel was announced. Three years later and the sequel is finally here, bringing back all that we loved from the first movie and giving us new jokes to meme-fy and new mash-ups to sing along to.
1 The underdog factor.
ADVERTISEMENT - CONTINUE READING BELOW
When we first met the Barden Bellas, they were in need of a fresh sound and new recruits. Fast forward to Beca and the girls' senior year, and they're now three-time a capella champs with a penchant for flashy performances. All that changes when a special show for Barack Obama's birthday goes very, very wrong, (no) thanks to Fat Amy's major wardrobe malfunction. The Bellas become the national laughingstock and get stripped of their aca-privileges. Redemption is possible but only if they win the world championship, which no American team has ever done and ever will if German group Das Sound Machine has anything to say about it!
2 Mash-ups and riff-offs.
The Bellas' "Just the Way You Are/Just a Dream" still gives us goosebumps, and now we have more catchy mash-ups like "Girls/Where Them Girls At/We Belong/Flashlight." (The last bit is an original song!) The sequel also brought back riff-offs, this time beat-matching with themes like "songs about butts" and "I dated John Mayer." If you're a football fan, you'll dig the special cameo in the riff-off scene!
3 Fat Freaking Amy.
How did we go three years without the reigning queen from down under? You've got to watch for her duet with Bumper!
4 Aca-cuties.
Speaking of Bumper, Jesse and the Treblemakers are back! We may or may not have melted into a puddle of kilig when they first appeared singing "Lollipop."
5 Friendship goals.
Jokes and mash-ups aside, the heart and soul of the movie is the Bellas' sisterhood. A capella singer or not, you'll relate to the girls' struggle to stay true to themselves and keep their friendship strong in the face of their impending graduation and major sepanx.
ADVERTISEMENT - CONTINUE READING BELOW
Pitch Perfect 2 is now showing.