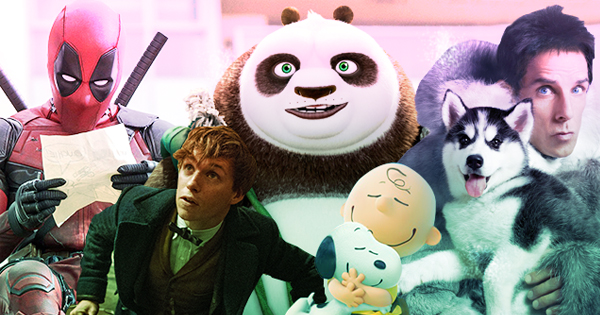 Snoopy and Charlie Brown: The Peanuts Movie - January 8

Welcome the new year with Snoopy, Charlie Brown, Lucy and the rest of the Peanuts gang by catching their big screen debut!

Steve Jobs - January 13

Get to know the genius behind the Apple empire in this biopic starring Michael Fassbender.

Our Brand Is Crisis - January 13

Sandra Bullock kicks butt as a lethal political strategist in this satirical comedy. Fun fact: her role was originally written for a man!

Alvin and the Chipmunks: The Road Chip - January 20

The Chipmunks team up with their terrible soon-to-be stepbrother to stop a proposal that'll bind them for life. #chipmunkproblems

Sisters - January 20

Tina Fey + Amy Poehler + Maya Rudolph + Pitch Perfect director Jason Moore = the must-watch comedy of the month!

The 5th Wave - January 20

If you're looking for something to fill the hole that Hunger Games left in your heart, Chloe Moretz's new dystopian movie is just the thing.

13 Hours - January 27

John Krasinski saves the day—specifically the fateful day of the 2012 Benghazi attack—in this adaptation of Mitchell Zuckoff's book.

The Finest Hours - January 27

Star Trek's Chris Pine leads the "greatest small boat rescue in Coast Guard history." Captain Kirk would approve!

The Revenant - January 27

Critics are saying that this harrowing tale of survival and revenge set in the American wilderness might finally help Leonardo DiCaprio win his first Oscar!

The Big Short - January

Crazy, Stupid, Love's Ryan Gosling and Steve Carell reunite in this slick drama about modern banking, along with Brad Pitt and Christian Bale.

Deadpool - February 3

Make way for Deadpool, the newest, most irreverent superhero on the block. Not for the faint of heart!

Zoolander 2 - February 10

The fiercest model of all time is back to save the world from a group that's killing off the beautiful people of the world, like Justin Bieber. Starring Ben Stiller (also the director), Owen Wilson, Penelope Cruz, Kristen Wiig, Benedict Cumberbatch, and Will Ferrell.

Brooklyn - February 10

Saoirse Ronan plays an Irish immigrant in Brooklyn torn between two homes and two loves, one of which is played by Domhnall Gleeson, who will forever be Bill Weasley to us no matter how angry he gets as Star Wars' General Hux!

The Danish Girl - February 10

Before Eddie Redmayne plays Newt Scamander in Fantastic Beasts and Where to Find Them, catch him as the transgender pioneer Lili Elbe in this movie inspired by true events.

How to Be Single - February 17

Rebel Wilson's latest comedy flick is the perfect post-Valentine's movie date with the girls!

Zootopia - February 17

As the first bunny police officer of the Zootopia metropolis, Judy (voiced by Once Upon A Time's Ginnifer Goodwin) is bent on proving that she's just as good as the other animals in the force.

Joy - February

In this genre-bending movie based on a true story, Jennifer Lawrence is back as a business tycoon and family matriarch. Like we'd expect anything less from our queen!

The Other Side of the Door - March 2

If you love horror movies and miss Lori Grimes from The Walking Dead, this movie is perfect for you.

Concussion - March 2

As a forensic neuropathologist, Will Smith is determined to speak the truth about his discovery of a sports-related brain trauma, but the powers that be won't let him.

Kung Fu Panda 3 - March 9

Po finally meets his long-lost dad, and together they travel to a secret panda paradise, which sounds like the best place on earth.

Batman v Superman: Dawn of Justice - March 26

More than the super brawl between Batman and Superman, we're excited for Gal Gadot's first appearance as Wonder Woman!

The Divergent Series: Allegiant - March

Tris and her squad finally go beyond the wall in part one of the Allegiant adaptation. We wonder how they'll cut the book in half!

The Jungle Book - April 13

Go where the wild things are in this re-imagining of the beloved children's classic.

The Huntsman: Winter's War - April 20

The Huntsman in Snow White and the Huntsman takes center stage in this movie that shows exactly how far back he and the evil queen go.

Captain America: Civil War - May 6

What is it with superheroes butting heads this summer? (Is it mercury retrograde or something?)

X-Men: Apocalypse - May 18

The X-Men face a new big bad, who is believed to be the very first mutant. Jennifer Lawrence, Nicholas Hoult, and the rest are back and ready to lead the next generation of X-Men, including Jean Grey (played by Game of Thrones' Sophie Turner).

Alice Through the Looking Glass - May 27

Time to head back down the rabbit hole!

Angry Birds - May

If you've ever wondered why the famous birds are so angry, here's your chance to find out exactly what's got their feathers in a bunch.

Finding Dory - June 17

Thirteen years after Finding Nemo came out, we finally have th Dory sequel we've been waiting for. Don't forget—like Dory probably would—to save the date!

Independence Day: Resurgence - June 22

Gale a.k.a. Liam Hemsworth has left Panem to fight another evil, this time the extraterrestrial kind.

The Conjuring 2: The Enfield Poltergeist - June

The Conjuring's Vera Farmiga and Patrick Wilson bring another true scary story to life.

Warcraft - June

The must-watch movie of the month for all the gamers out there.

Tarzan - June

Jane and Tarzan 5eva!

Teenage Mutant Ninja Turtles: Out of the Shadows - June

If you watch Arrow, you'll get a kick out of seeing Oliver Queen a.k.a. Stephen Amell hang with the Turtles.

Ghostbusters - July

We love that this generation of Ghostbusters are all girls!

ADVERTISEMENT - CONTINUE READING BELOW

The BFG - July

BFG stands for Big Friendly Giant, who is a, well, big friendly giant that collects dreams and sends them to children. One day, he brings a 10-year-old girl to his cave in Giant Country, which shakes things up both in his hometown and in our world.

Ice Age: Collision Course - July 6

You know how they say that the simplest things, like the flapping of a butterfly's wings, can change the course of history? Let's just say that back in the Ice Age, it wasn't called the butterfly effect—more like the Scrat effect!

Star Trek Beyond - July 8

Captain Kirk and his crew are back, this time with the director of Fast and Furious leading them behind the scenes.

King Arthur - July 21

Meet the new Knights of the Round Table.

Suicide Squad - August 3

Harley Quinn, the Joker, Enchantress, Deadshot, Boomerang, and Rick Flagg are our new #squadgoals.

Pete's Dragon - August 12

This re-imagining of the 1977 Disney classic introduces a new generation to Pete and his pet dragon, Elliot.

Ninjago - September 23

This animated movie about the ninja-inspired line of LEGO should tide you over until The LEGO Movie sequel comes out next year.

Storks - September

A look behind the famous baby-delivering system of storks. Look at all those babies! Too cute.

Inferno - October 14

Harvard symbologist Robert Langdon is back to save the world from an Inferno-related global plague, but first he has to get his memories back.

Doctor Strange - November 4

Sherlock's Benedict Cumberbatch is Marvel's newest superhero, a neurosurgeon who enters a world of magic and alternate universes after a terrible car accident.

ADVERTISEMENT - CONTINUE READING BELOW

Fantastic Beasts and Where to Find Them - November 17

We're going back to Hogwarts (or at least the wizarding world)! Back to witches and wizards and magical beasts! To goblins and ghosts, and to magical feasts! We seriously cannot wait for this new chapter starring Eddie Redmayne as magizoologist Newt Scamander.

Moana - November 30

Adventure is out there, and 16-year-old Moana knows it. With the help of a demi god, she sets sail for a legendary island to prove that she can be a master wayfinder.

Rogue One - December 16
We're ending the year with another Star Wars must-watch movie, which is set before the events of Episode IV: A New Hope. Rogue One tells the story of the resistance fighters who joined forces to steal the plans to the Death Star. After the spectacular Episode VII last December, we're so excited to go back to that faraway galaxy!