All Access
34 Thoughts While Watching One Direction's "Drag Me Down" Music Video
BRB, pressing refresh on this video.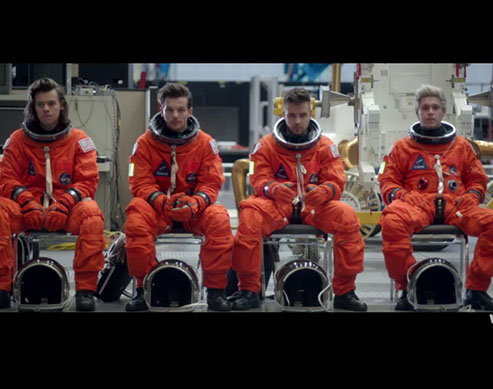 PHOTOS SYCO Music/Ivory Music & Video
Now that we've had enough time to process our ~feelings~ after One Direction dropped their music video for "Drag Me Down," we come to you with the different voices in our heads while we endlessly pressed replay on the video. We're pretty sure you did the same, so here goes nothing. Press play and scroll through our list.
They did shoot the video at NASA!

OMG this is the first video without Zayn. </3 (Someone on our Facebook Page noted that he might be the one taking the video. :P)

Hiii, BB.

Loving the air guitar skillz, Liam and Niall.

Ooh, the boys ~training~ to be astronauts.

LOL, name one boyband music video that has a similar shot like this (clue: B_B).

Louis' hair looks really good in this.

YASSS. More Liam close-up shots, please.

Niall's marsala ankle booties on fleek.

A bit of a stretch there, Niall.

I see you, Harry.

Not even halfway through this and I already know I'm going to press replay right after it ends.

I don't want it to end yet, though.

This jacket really reminds me of something I saw in Just G. LOL. I want it.

That face! (Referring to Liam, of course.)

#SquadGoals

I really like Niall's boots.

Aww, that smile.

We might as well just screencap the whole thing, no?

Loving this slo-mo walking thing. They look like legit astronauts.

Okay, maybe not, but who cares?

Sing it!

Okay, we can't not GIF that hair flip.

Wait, where are you guys going?

Are they going to the moon? Or maybe Mars?

[blockquote:0]

They seem a bit unsure, too.

Bon voyage, boys!

Maybe leave me the booties, Niall?

That note, though. (Sorry, it's blurred.)

Our EA Bianca predicted there'd be some sort of explosion in the "Drag Me Down" video. A rocket launch is a close second, maybe?

Successful mission, Houston!

Wait, does this mean the video's almost over?

What's going on, Niall?

Okay, let's press refresh and do it from the top.
What did you think of the music video? Are you excited to hear the rest of the fifth album? Sound off in the comments below and let's discuss!
It's the best time to pick up a new hobby and put those notebooks to use.
We can't handle this breakup!
For days when you need an instant outfit inspo that's still campus-appropriate.
It could very well be one of the world's largest volcanoes.
From consistently badmouthing another friend behind their backs to making snide comments sneakily disguised as compliments, here's how to deal with a tricky friendship.
From sisig to bulalo, the North has a lot to offer.
Even college students like us can apply for freelance creative jobs while we're still going for that diploma!
These simple practices, when done consistently, end up being worth a lot.
It can actually *shatter* your cartilage.
Bordeos becomes meat of online talk while helping out in family's meat business.
From her gowns down to the décor and food!
Trish is part of Candy Rookies 2020, a group of influential and aspirational college students handpicked to represent #GenerationCandy in the year to come.