All Access
30 Lines From Taylor Swift's Songs To Inspire You Every Day
Get your inspo this month from the beloved country singer!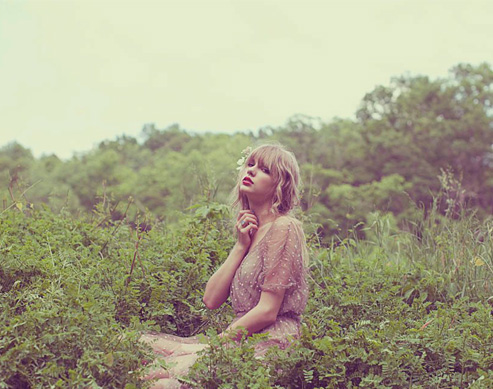 Here's your daily dose of inspiration this August from one of our favorite girls, Taylor Swift. We've rounded up 30 lines (one for each day of the month!) from the country singer's songs that will surely inspire you to be your best self this month. Read through them below and let us know which ones are your faves in the comments.
1. "There's a fire inside of you that can't help but shine through." –"Invisible"
2. "You're beautiful, every little piece love. And don't you know you're really gonna be someone?" –"Stay Beautiful"
3. "Maybe I'm just a girl on a mission, but I'm ready to fly." –"A Place In This World"
4. "Seems the only one who doesn't see your beauty is the face in the mirror looking back at you. You walk around here thinking you're not pretty, but that's not true." –"Tied Together With a Smile"
5. "I was sixteen when suddenly I wasn't that little girl you used to see." –"Mary's Song"
ADVERTISEMENT - CONTINUE READING BELOW
6. "Look at you worrying so much about things you can't change." –"Starlight"
via atfirstglancefeeling.tumblr.com
CONTINUE READING BELOW
Recommended Videos
7. "And I don't know how it gets better than this. You take my hand and drag me head first, fearless." –"Fearless"
8. "And when you're fifteen, don't forget to look before you fall. I've found time can heal most anything, and you just might find who you're supposed to be." –"Fifteen"
ADVERTISEMENT - CONTINUE READING BELOW
9. "Your very first day you take a deep breath, girl. Take a deep breath as you walk through the doors." –"Fifteen"
10. "Why are people always leaving? I think you and I should stay the same." –"Hey Stephen"
11. "People are people, and sometimes it doesn't work out." –"Breathe"
12. "I'm not a princess. This ain't a fairy tale. I'm not the one you'll sweep off her feet, lead her up the stairwell." –"White Horse"
via jordansparrish.tumblr.com
ADVERTISEMENT - CONTINUE READING BELOW
13. "These walls that they put up to hold us back will fall down. This revolution, the time will come, for us to finally win and we'll sing hallelujah." –"Change"
14. "Tonight we stand, get off our knees, fight for what we've worked for all these years. And the battle was long, it's the fight of our lives. But we'll stand up champions tonight." –"Change"
15. "Someday I'll be living in a big ol' city and all you're ever gonna be is mean. Someday I'll be big enough so you can't hit me and all you're ever gonna be is mean." –"Mean"
16. "But I took your matches before fire could catch me, so don't look now. I'm shining like fireworks over your sad empty town." –"Dear John"
17. "Don't you ever grow up, it could stay this simple. No one's ever burned you, nothing's ever left you scarred. And even though you want to, just try to never grow up." –"Never Grow Up"
ADVERTISEMENT - CONTINUE READING BELOW
18. "But no amount of vintage dresses gives you dignity." –"Better Than Revenge"
via rahswift13.tumblr.com
19. "I hope you remember, today is never too late to be brand new." –"Innocent"
20. "I just realized everything I have is someday gonna be gone." –"Never Grow Up"
21. "Who you are is not what you did. You're still an innocent." –"Innocent"
ADVERTISEMENT - CONTINUE READING BELOW
22. "But sophistication isn't what you wear or who you know, or pushing people down to get you where you wanna go." –"Better Than Revenge"
23. "Long live the walls we crashed through, how the kingdom lights shined just for me and you. I was screaming long live all the magic we made and bring on all the pretenders. One day, we will be remembered." –"Long Live"
24. "So don't you worry your pretty little mind. People throw rocks at things that shine." –"Ours"
via tayalissons.tumblr.com
ADVERTISEMENT - CONTINUE READING BELOW
25. "Don't you dream impossible dreams?" –"Starlight"
26. "Everything will be alright if we just keep dancing like we're 22." –"22"
27. "I've been spending the last eight months, thinking all love ever does is break and burn and end. But on a Wednesday in a cafe I watched it begin again." –"Begin Again"
28. "Every sky was your own kind of blue, and I wanted to know how that would feel. And you made it so real." –"Crazier"
29. "It's alright, just wait and see. Your string of lights is still bright to me. Oh, who you are is not where you've been. You're still an innocent." –"Innocent"
30. "Love is a ruthless game, unless you play it good and right." –"State of Grace"
via uniqueswift.tumblr.com
ADVERTISEMENT - CONTINUE READING BELOW
Including the labor fee, landscape, and all the furniture inside.
"I think I just want to show people na hindi ko na pinapalampas yung mga bagay na ganito," Julia shares.
Celebs have decided to use their platforms to open up about their own mental health.
This 16-year-old's net worth will leave you speechless.
Slough off dirt and even out your tone in two to three easy steps.
Aside from the overall rankings, THE also provides rankings by subject.
The solo artist posted the announcement on Twitter.
Here are eight things to know about the former PBB Teen housemate.
Find one that can suit your *existing* room aesthetic.
From The Candy Bulletin Community