All Access
28 Movies to Watch This Love Month
So what if it's already mid-Feb? You can still watch these rom-coms, dramas, and other movies that'll make your heart skip a beat.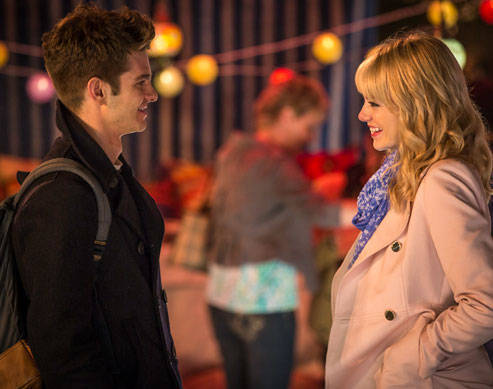 PHOTO Columbia Pictures, GIFs Tumblr
Endless Love (now showing). February was made for all-consuming love.


via endlesslovemovie.tumblr.com

The Book Thief (now showing). A touching and surprisingly funny movie that will restore your faith in humanity.


via ldarknessl.tumblr.com

Winter's Tale (now showing). Downton Abbey's Jessica Brown Findlay sure has a thing for star-crossed romance (and, spoiler alert, dying).


via ameliapondas.tumblr.com

Vampire Academy (now showing). Created by the director of Mean Girls and the writer of Heathers—who are brothers in real life, whaaat—Vampire Academy is bound to be loads of fun.


via dailyva.tumblr.com

Warm Bodies. Banish those blues with some Nic Hoult...


via workgifs.tumblr.com

The Amazing Spider-Man. And Andrew Garfield...


via weheartit.com

Crazy Stupid Love. And Ryan Gosling, of course.


via paolammmartinez.tumblr.com

The Mortal Instruments: City of Bones. Ditch the usual love triangle for a love cube.


via mortalmovie.tumblr.com

One Direction: This Is Us. Because all roads lead to 1D.


via pizzasrad.tumblr.com

Stuck in Love. Come for Logan Lerman and Lily Collins; stay for the family drama and ensemble romance.


via seleuagomez.tumblr.com

The Perks of Being a Wallflower. Because you can never have too much of Logan Lerman.


via unreachabledreams94.tumblr.com
The Spectacular Now. Get real with Shailene Woodley and Miles Teller. Also: consider this part of your Divergent prep plan.


via movies-quotes.tumblr.com

About Time. You can't go wrong with love, time travel, and Rachel McAdams.


via mitropolitsaketis.tumblr.com

The First Time. If you love Dylan O'Brien on Teen Wolf, you will adore, and I mean ADORE, him in this coming-of-age movie with Britt Robertson.


via dontworrybehappy-iaaru.tumblr.com

(500) Days of Summer. If you want to cry...


via aaronxdanni.tumblr.com

Like Crazy (catch it on HBO). And cry some more...


via sad-secret-diary.tumblr.com

Blue Valentine. And just ugly cry to your heart's content.


via moviegraphs.tumblr.com

Nick and Norah's Infinite Playlist. Your musical soul mate.


via lovemeify0udare.tumblr.com

Ruby Sparks. Just the movie to watch if you think life would be so much easier if you could conjure Mr. Perfect out of thin air.


via thecatcheroftherye.tumblr.com

Easy A. A pocketful of sunshine for anyone who's feeling down this month.


via 90s-dreamers-of-glass.tumblr.com

Pride and Prejudice. OTPs before there was even a word for it.


via siren.tumblr.com

10 Things I Hate About You. Some '90s angst for ya.


via nykedaenerysjelmazmo.tumblr.com

She's All That. RIP, Paul Walker.


via teacigsandbooze.tumblr.com

Frozen. Who cares if it's not Christmas anymore?


via auroras-rose.tumblr.com

Valentine's Day. Or if it's no longer V-Day?


via dvdriot.tumblr.com

The High School Musical trilogy. #ThrowbackThursday


via vanessaannes.tumblr.com

Romeo + Juliet. It'd be a shame to let the month pass by without watching this epic love story (and Leo in all his fresh-faced glory).


via myworldforalways.tumblr.com

Les Miserables (catch it on HBO). Last but certainly not the least. LINK:


Way harsh, Marius. (via rebloggy.com)
\\\\\\\\\\\\\\\\\\\\\\\\\\\\\\\\\\\\\\\\\\\\\\\\\\\\\\\\\\\\\\\\\\
Get the latest updates from candy!
subscribe to our newsletter!
////////////////////////////////////////////////////////////////
Skip a makeup step with these beauty goodies!
Take pretty notes and study effectively with these tips!
Wait for a love like this. A love that is good to you, for you.
Are you up for this challenge?
Can't wait to see the actual gowns!
The up-and-coming musicians and childhood friends talk about their music, creative process, and why it's important to be woke.
Because when it comes to a great lip game, there's really no need to splurge!
A different language sheds new light on everyday terms.
Take advantage of the cooler weather in the metro!