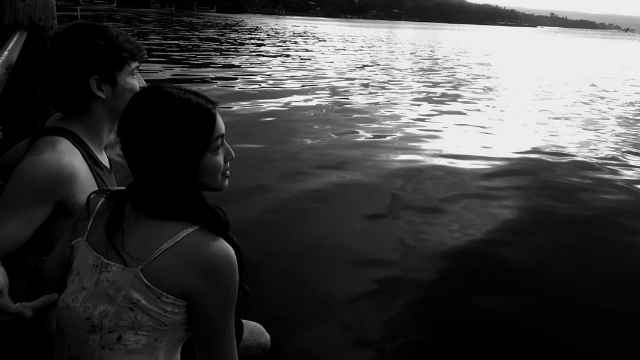 Last night's On the Wings of Love episode definitely made OTWOListas' day! After Leah (Nadine Lustre) finally said yes to Clark (James Reid) and agreed that she'll be in the relationship as much as he is comes the one of the show's most kilig-inducing episodes. Before telling you what went down last night, we're rounding up a few of this TV show couple's most memorable episodes shot in Metro Manila first. Scroll down to know which of your favorites made it to the list.
1 That moment when Clark and Leah finally met in the Philippines. We didn't even mind that her dad was a bit mad when she found out her youngest daughter got married in secret. #MoreKiligInThePhilippines
2 When Clark got drunk in love after Tatang Sol and the rest of the guys from Leah's home interroagated him over bottles of basi, this traditional wine from Ilocos made of sugar cane juice. Of course, he was too drunk to go home so his wife had to take care of him.
ADVERTISEMENT - CONTINUE READING BELOW
3 That moment when Clark was so into being Leah's husband. They had to pretend to be in love again so her dad won't doubt that his daughter's in good hands.
READ: What Went Down at This Weekend's #OTWOLSpreadTheLoveTour
4 When Clark accepted Tatang Sol's challenge of making ligaw again. Joke's on him because Leah really had a hard time dealing with him, too, back when they were just starting out as a married couple in San Francisco.
5 That time Clark went with Leah to the public market. Who would ever forget the line, "Mrs. Beauty. Asawa ko sya." Hubby marking his territory right there!
6 When it was Leah's turn to mark her territory during the search for Ginoong Tenement 2015. A lot of girls were fangirling over her husband (we really can't blame them) and she shut them down like a real pro. Plus, doesn't hurt to see her super proud of her husband, too!
7 That time Clark had to go through the fire to help one of Leah's neighbors. His wife was so worried about him that she broke down in tears. Of course, he came out safe and enjoyed his wife's warm, tight embrace.
READ: #OTWOLHotseat: 3 Relationship Lessons From Leah's Dad That We Should Keep In Mind
8 When the couple watched the sunset in Manila Bay together and Clark opened up about how he was able to accept his relationship, if you can even call it that, with his estranged father—because he found a better love in Leah.
9 That time Leah got a dose of workplace politics and she was just frustrated with everything. Of course the husband comes in to save her day and tell her that everything's going to be fine.
10 Their first real kiss in the Philippines. Fine, it happened during a photoshoot when they had to "pretend" they were in love with each other. BUT STILL!
ADVERTISEMENT - CONTINUE READING BELOW
READ: #OTWOLIgibNgPagibig: 8 Things Clark Can Endure For Leah
11 That moment of relief when Leah finally said yes, she's going to be Clark's wife for real. Until now we still can't put our feelings into words. We're just too happy they finally got together, for real.
12 And finally, last night's Harana episode wherein Clark sang "Can't Help Falling In Love" for his wife. What makes everything loads better? Tatang Sol totally approves. Good job, Clark!
On the Wings of Love airs weeknights on ABS-CBN after Pangako Sa 'Yo.
For more kilig moments from OTWOL, read Cosmo.ph's article on the 12 Most Kilig OTWOL Moments.