A lot of good movies came out this year and we can't help but keep track of all the movie lines we've memorized this year just for fun or because we want to use them for our daily conversations. Whether we used them this year just because we can or placed them on our status messages for all the #FEELS, we go back to all the movie quotes that have stuck with us.
1. The Fault in Our Stars: " I cannot tell you how thankful I am for our little infinity. I wouldn't trade it for the world. You gave me a forever within the numbered days and I'm grateful." —Hazel Grace to Augustus
There are tons of quotable quotes from this movie, and it was so difficult to choose. But we settled for this one because it felt like we can tell this to John Green and the rest of the people behind the movie for giving us our little infinity.
ADVERTISEMENT - CONTINUE READING BELOW
via caughtupinbooks.tumblr.com
ADVERTISEMENT - CONTINUE READING BELOW
2. Divergent: "Fear doesn't shut you down, it wakes you up." —Four to Tris
A runner-up memorable line from Divergent would be "What's your tattoo?" which Tris asked Four and opened the door for us to ship #FourTris hard. But we're going for this one because it motivates us every day.
ADVERTISEMENT - CONTINUE READING BELOW
via the-divergentseries.tumblr.com
3. She's Dating the Gangster: "I can't breathe." —Kenji to Athena
Now we all have a new way of saying "I love you" to our loved ones in case we find it difficult to let out those 3 words.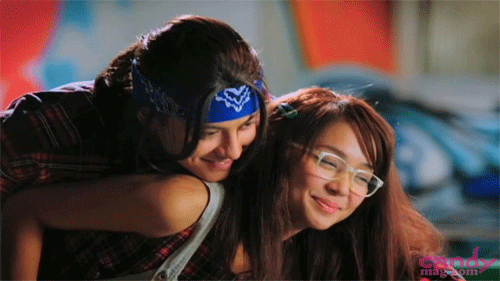 ADVERTISEMENT - CONTINUE READING BELOW
4. The Hunger Games: Mockingjay Part 1: "It is the things we love most that destroy us." —President Snow to Katniss
You just have to hand it to the wicked Panem president. He knows how to give us a feels-inducing quote which we all know to be true.
via ithelpstodream.tumblr.com
ADVERTISEMENT - CONTINUE READING BELOW
5. Guardians of the Galaxy: "I am Groot." —Groot to everyone
Lost for words? We now have a line to fill in those awkward silences. That cute dance is optional, though.
via awbuckyno.tumblr.com
6. Big Hero 6: "Fala la la la!" —Baymax to Hiro
We can't even give this line enough cuteness to give Baymax the justice he deserves when he spoke this line. But we're leaving this here anyway because it's too cute not to include here.
ADVERTISEMENT - CONTINUE READING BELOW
via disneyanimation.tumblr.com
7. The Maze Runner: "We get out now or we die trying." —Thomas to everyone
This line should be your note to yourself whenever you need motivational words to help you get through a bad day.
via deathunicornfan.tumblr.com
ADVERTISEMENT - CONTINUE READING BELOW
8. Maleficent: "Then you'll be afraid." —Maleficent to Aurora
Feeling mean or wicked? Thanks to this line from Maleficent you now have something to tell your frenemies.
via all4movie.tumblr.com
9. The Amazing Spider-Man 2: "I know that we all think we're immortal, we're supposed to feel that way, we're graduating. The future is and should be bright, but, like our brief four years in high school, what makes life valuable is that it doesn't last forever, what makes it precious is that it ends. I know that now more than ever. And I say it today of all days to remind us that time is luck. So don't waste it living someone else's life, make yours count for something. Fight for what matters to you, no matter what. Because even if you fall short, what better way is there to live?" —Gwen Stacy's commencement speech
ADVERTISEMENT - CONTINUE READING BELOW
We actually don't know what made us cry a little when Gwen made her graduation speech: her words or the fact that we know what was going to happen to her in the end? *sniff, sniff, sniff*
via windingcourse.tumblr.com
10. Begin Again: "And I have loved you like a fool."—Greta to Dave
ADVERTISEMENT - CONTINUE READING BELOW
The songs from this musical which were performed by Keira Knightley and Adam Levine were all memorable. But this voice mail exceeds expectations. Reminds you why you have to delete your ex's number from your phone... or maybe to think of a classy and artsy way to make your revenge.
via movieclipsdotcom.tumblr.com
ADVERTISEMENT - CONTINUE READING BELOW
What lines fom this year's movies were your absolute faves, Candy Girls? Let us know in the comments or tweet us @candymagdotcom to join the conversation. :)