All Access
20 TV Finales in 20 Words or Less
Bite-sized endings just for you. Click at your own risk!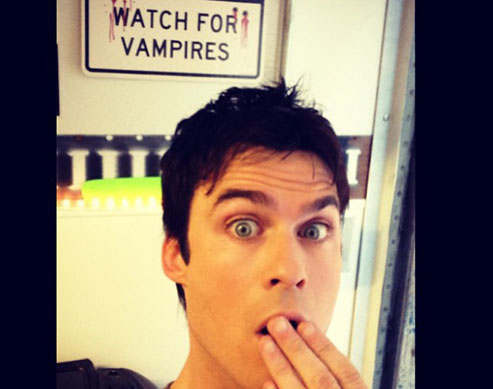 The Vampire Diaries. Welcome back, Alaric; see you soon, Damon. I don't think anyone believes for a sec that Damon will stay dead.

The Originals. Like mother, like daughter: dead Hayley comes back as a hybrid, while dead baby Hope is actually alive and kicking.

[table:0]

2 Broke Girls. Max isn't too cool for school after all. Happy graduation!

Yes, you do, Max.

Glee. Lea-nception: Rachel books a TV pilot about her life.

[table:1]

The Voice. Josh Kaufman wins, Adam Levine promises to sign Christina Grimmie to his label, and everyone gets a car.

[table:2]

American Idol. Caleb Johnson sings with KISS, Jena Irene sings with Paramore, and Ryan Seacrest... tries to sing.

Arrow. I choose to believe that the fake ILY is a preview of what's to come. Olicity 5eva!

[table:3]

New Girl. Even the love boat can't save Nick and Jess's relationship, but at least they're friends... for now.

[table:4]

Hart of Dixie. Some Zade action like the last season finale except this time it's Zoe who's doing the chasing.

[table:5]

The Big Bang Theory. As his world turns upside down, Sheldon goes soul searching—although he'll never call it that.

[table:6]

Star-Crossed. It's the series finale so we'll never see the Atrian warships land on earth.

[table:7]

Agents of S.H.I.E.L.D. Ours is the (Nick) fury. But Samuel L. Jackson guesting is only the icing on top of a jaw-dropping finale.

The Tomorrow People. Tomorrow will not be kinder to the homo superiors as the show has been canceled.

[table:8]

Modern Family. After a long walk down the aisle, Cam and Mitchell finally tie the knot.

[table:9]

Grey's Anatomy. Cristina leaves Seattle, but not without one last dance with Meredith, her best friend, her soul mate, her person.

The Crazy Ones. Will they or won't they? We'll never know.

[table:10]

The Mindy Project. Mindy's favorite rom-coms have nothing on that epic moment with Danny.

via hulu.tumblr.com

Hannibal. I have two words for you: bloody hell.

Brooklyn Nine-Nine. Jake stops joking around long enough to tell Amy how he feels. <3

Suburgatory. Tessa and Ryan are reunited and it feels so good… and public. Good bye, Chatswin, your craziness will be missed.

[table:11]
Will your friendship survive the wrath of thesis?
Here are a few things that might help.
Fast cars and dark roads don't mix.
BTS' agency already made the official announcement.
The deep red lipstick shade flatters all skin tones!
The 19-year-old dancer also appeared in the music video and on Jimmy Fallon's show along with her dance crew The Lab!
This is straight out of a teleserye!
It'll be available in five cute colors!
Sometimes, it only takes a few simple additions to brighten up your area and inspire you to stay productive.